– HARAKAT-UL-JIHAD-E-ISLAMI BANGLADESHI – [HUJI-B]
* BANGLADESHI MOVEMENT OF ISLAMIC JIHAD.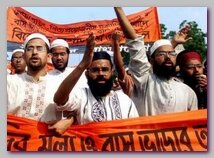 The Harakat-ul-Jihad-al-Islami in Bangladesh – HUJi-B, was formed as the Bangladeshi branch of HuJI in 04/30/1992, when several radical Islamic leaders in Bangladesh addressed a press conference at the Jatiya Press Club in the capital Dhaka and demanded that Bangladesh be converted into an Islamic State.
Harakat-ul-Jihad-al-Islami Bangladesh- HUJi-B aims to establish Islamic Hukumat (rule) in Bangladesh by waging war and killing progressive intellectuals. It drew inspiration from Osama Bin Laden and the erstwhile Taliban regime of Afghanistan. At one point of time, the groups issued a slogan, Amra Sobai Hobo Taliban, Bangla Hobe Afghanistan (We will all become Taliban and we will turn Bangladesh into Afghanistan). HUJi-B recruits are indoctrinated in the mold of radical Islam.
The HUJi-B is led by Shawkat Osman alias Sheikh Farid. Imtiaz Quddus is the general secretary of the organization. The operations commander of HUJi-B, Mufti Abdul Hannan was arrested in Dhaka on 10/01/2005.
Prior to operation ' Absolute Justice ' in Afghanistan in 12/2001 and the overthrow of the Taliban regime many young recruits went for training with Al Qaeda and the Taliban in Afghanistan. A large number of the volunteers came from neighbor Myanmar.
After operation 'Absolute Justice' the group managed to run few training camps in the hilly areas of Chittagong in North Bangladesh. HUJi-B committed a number of terror attacks in Bangladesh already from 02/1996 and has been found to be responsible for a number of terrorist attacks orchestrated in Indian urban centers as from 2000.
The HUJi-B is coordinated, to large extent, with the twin Pakistani based Harakat-ul-Jihad-al-Islami – HuJI and the two groups help to shelter activists from the other group.
In Bangladesh, the HUJi-B is also known to have enjoyed the patronage of mainstream political parties such as the Bangladesh Nationalist Party (BNP) and the Jamaat-e-Islami.
On 06/06/2008 HUJi-B leader – Rafiqul Islam Gazi alias Shafiq Sabuj, who was arrested few days earlier on 06/01/2008, confessed to his involvement in the grenade attack on the Awami League rally in the capital Dhaka on 08/21/2004. A total of 14 people have so far been arrested in connection with this grenade attack.
* Related topics –
– 
09/2007 -BANGLADESH CARTOON CONFUSION 
****************************
Read more ;