– ABDALLAH TABARAK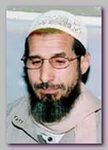 Abdallah  Tabarak Ahmad was born in Morocco, on 12/12/1995, and worked as a driver and a public transport worker in Casablanca.
Abdallah  Tabarak was one of Osama Bin Laden's bodyguards and in charge of Osama Bin Laden's security details. He worked for Osama Bin Laden since 1989 already in Saudi Arabia and then, in 1992, in his farm in Sudan. Abdallah  Tabarak was caught in Tora-Bora, Afghanistan, on 12/15/2001, when he used Osama Bin Laden's satellite phone, deliberately, to deceive the Americans and enable his boss to flee in another direction to Pakistan. After his capture Abdallah  Tabarak was sent to Guantanamo in 02/2002, was denied any access by the Red Cross and categorized as one of the most valuable detainees in the detention camp.
Abdallah  Tabarak was released, along with other four Moroccan inmates, Ibrahim Binshakrun, 25, Muhammad Mazuz, 31, Muhammad Uzar and Ridwan Shakkuri, 32, from Guantanamo and sent back to Morocco in 08/01/2004. In Morocco he was charged on forgery of documents and released on bail from jail in 12/2004. 
Three of Abdallah Tabarak's Guantanamo inmates – Ibrahim Binshakrun, Muhammad Mazuz and Ridwan Shakkuri were rearrested, in 11/2005, for their role in the Moroccan-Network.
Today (05/2009) Abdallah  Tabarak lives in a small town near Casablanca. He is named in his town the Amir (Prince) of Guantanamo.  Abdallah  Tabarak's daughter Asia is married to Abu Faraj al-Liby.
* Related topics – 
–
2006 – ANSAR AL-MAHDI PLOT  
12/2001 – SALIM AHMED HAMDAN CONVICTED 
PROFILE – ABDEL KARIM MEJJATI   
Read more ;