– KISMAYO OFFENSIVE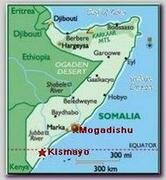 From all efforts done by USA to overcome and eliminate Al Qaeda affiliated al-Shabab in Somalia that one of the kenyan forces in Southern Somalia, known as the "Almadow Operation", proved itself as the most successful in uprooting al-Shabab from its strongholds in Southern Somalia. They, with French and USA logistical and intelligence support, succeeded where US Special forces, Ethiopian Army and African Union troops failed times and again (see – Ethiopian-Somali War).
Islamist militants in Somalia said, on Saturday 09/29/2012, they have withdrawn from their southern stronghold of Kismayo, following Kenyan and African Union (AU) military attack.
Kenyan and Somali forces launched a beach assault on al-Shabab's last major bastion on Friday but encountered fierce resistance. A Somali commander told the BBC that AU forces were not yet in the city. Kenyan troops are leading part of a force trying to wrest control of the country for the new UN-backed president.
'Al-Shabab spokesman
Ali Mohamud Rage
told AFP news agency: "The military command of Shabab mujahideen ordered a tactical retreat at midnight." Speaking to Reuters, the same spokesman confirmed the withdrawal, but added: "The enemies have not yet entered the town. Let them enter Kismayo, which will soon turn into a battlefield."
Al-Shabab commander Sheikh Mohamed Abu-Fatma confirmed the withdrawal orders to AFP: "We got orders from our superiors to withdraw from the city… this is part of broader military tactics we have set for the enemy."
A spokesman for the Kenyan military said he feared the withdrawal might be a trap, so at present no-one is in control of Kismayo. Kenyan troops had launched airborne and amphibious landings before dawn on Friday, supported by Somali government forces. The key beach landing was near the main road to Mogadishu. The Kenyan military said the city was expected to fall quickly but al-Shabab continued its resistance throughout the day.
Strategic city
The loss of Kismayo will be a major blow to the Islamists since the port town was the economic base of al-Shabab and its route of supply and volunteers from all over the Radical Muslim World, including several hundreds from the Western Democracies  (see also – Kismayo 08.25.08).
But al-Shabab is still highly active in much of the countryside in southern and central Somalia and have carried out suicide bombings and other attacks in cities they no longer control. After the fall of Kismayo al-Shabab is no longer a threat to the regime as such. Al-Shabab's international connections and support is sharply reduced but they are still a threat to internal stability in the country. 
* Related topics ; 
06/2012 -

2 IRANIANS ARRESTED IN KENYA OVER TERROR
********************************