– FORMER SOMALI TRADE MINISTER KILLED IN MOGADISHU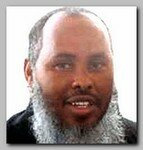 A car bomb went off in Somalia's capital Mogadishu, on Monday 07/16/2012, killing a former trade minister and current MP Mohamud Abdi Ibrahim (pic) and wounding six other people, officials said.The Somali armed group al-Shabab claimed responsibility for Monday's explosion
"The MP himself was driving the car. A bomb had been placed in his car without his awareness," deputy Mogadishu Mayor Warsame Mohamed told reporters on Monday. "The MP died. His flesh and documents are in the car," said Mohamed, referring to Ibrahim, who was also a former minister for humanitarian affairs and trade.
The explosion happened in a district which is right in the heart of Mogadishu around 800m away from Villa Somalia and the government offices; the president of Somalia actually lives there. Police Colonel Ali Mohamed confirmed the "driver of the car was killed and six civilians walking nearby were injured, some of them seriously" (see also – Mogadishu 04.04.12 ).
Sheikh Abdiasis Abu Musab, spokesman for al-Shabab's military operations, said: "We targeted the MP and killed him with an assassination bomb … We managed to place a bomb in his car. Government officials and those who work with them are infidels."
Mohamud was known to be close to President Sheik Sharif Ahmed. They belonged to the alliance that entered the government in 2009 through a power-sharing deal in Djibouti. "This has been the first attack of its kind in about a month in Mogadishu which has been pretty safe over the past four weeks," local reporters said.
The city has seen a series of such attacks since the hardline al-Shabab abandoned fixed positions there last year and switched to guerrilla tactics against the Western-backed government and a 17,000-strong African Union force.
Al-Shabab face increasing pressure from pro-government forces and regional armies, having lost a series of key towns and strategic bases in recent months (see – Almadow Operation). However, experts warn they are far from defeated and remain a major threat.
* Related topics : 
******************************
AL-JAZEERA
AFRICAREVIEW
BUISNESSDAY