– MALALA YOUSAFZAI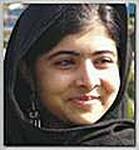 Malala  Yousafzai, born on 07/12/1997,  from the town of Mingora in the Swat District  of NWFP, Pakistan, was shot in her head on her way home from school in Mingora (see – Mingora Schools), the region's main city in Swat District on  10/09/2012, because she was  an outspoken advocate of education for girls, according to Ehsanullah Ehsan, a spokesman for Tehrik-e-Taleban in Swat Valley who  took responsibility on the attempt. Malala  Yousafzai was flown to UK for extensive treatment and her life were' eventually, saved.  
In early 2009, at the age of 11–12,  Malala  Yousafzai wrote a blog under a pseudonym for the BBC detailing her life under Taliban rule, their attempts to take control of the valley , and her views on promoting education for girls (see – Swat School Girls). The following summer, a New York Times documentary was filmed about her life as the Pakistani military intervened in the region, culminating in the Second Battle of Swat (see – Swat-Crisis).  Malala  Yousafzai rose in prominence, giving interviews in print and on television, and she was nominated for the International Children's Peace Prize by South African activist Desmond Tutu. 
The assassination attempt sparked a national and international outpouring of support for Malala  Yousafzai and an internal debate in Pakistan. 
On 07/17/2013 Adnan Rashid published in British Channel 4 an open four-page letter, addressing the 16-year-old education advocate Malala  Yousafzai
and
blamed her for provoking the attack by "smearing" the Islamists. 
At the start of the letter  
Adnan Rashid wrote
 "when you were attacked it was shocking for me, I wished it would never happened," but quickly shifted the blame for the shooting to the shoulders of the victim. 
* Related topics ; 
03/2010 -14 KILLED IN SWAT VALLEY BOMBING 

08/2009 -MALI WOMEN'S RiGHTS 

2008 -MUSLiM GIRLS RiGHTS 

WOMEN'S RIGHTS IN THE ISLAMIC WORLD
******************************