THREAT ON U.S CONTINGENTS IN THE MUSLIM WORLD
AL QAEDA'S THREAT ON U.S CONTINGENTS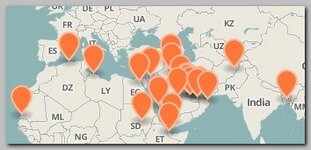 Two days after Al Qaeda leader Ayman Al Zawahiri  distributed through the web an audio message and said the group would spare no effort to free the remaining Guantanamo inmates (see – Audio 07.31.13), The USA  issued, on Friday 08/02/2013, a worldwide alert warning of plans by Al Qaeda to launch an attack in the Middle East or North Africa (Maghreb) in August, just a day after it announced that it would shutter 21 U.S embassies  across the Muslim world, including Israel, this weekend.
The State Department said attacks were possible "particularly in the Middle East and North Africa, and possibly occurring in or emanating from the Arabian Peninsula."
"Current information suggests that al-Qaeda and affiliated organizations continue to plan terrorist attacks both in the region and beyond, and that they may focus efforts to conduct attacks in the period between now and the end of August," the State Department said in a worldwide travel alert for U.S. citizens.
The alert warned of "the potential for terrorists to attack public transportation systems and other tourist infrastructure."
State Department spokeswoman Marie Harf said earlier that the United States would close a number of embassies and consulates on Sunday, a work day in much of the Islamic world. She added that some embassies or consulates could decide to remain closed beyond Sunday.
The Arabian Peninsula is the historic substrate of Al Qaeda, founded by Saudi-born extremist Osama Bin Laden who was killed in a U.S. strike in Pakistan in 2011 (see – Abbottabad Raid).
The United States has been especially cautious about security since an attack on its consulate in Benghazi, Libya on September 11 last year (see – AQ-Benghazi Raid).
The Al Qaeda threat that prompted the State Department to issue a worldwide travel alert and close down 21 embassies and consulates for the weekend is serious and 'very specific,' Rep. Peter King, chairman of the Subcommittee on Counterterrorism and Intelligence in the Congress, said Friday.
"There is a significant threat stream and we're reacting to it," said Gen. Martin Dempsey, chairman of the Joint Chiefs of Staff. He told ABC News in an interview to be aired Sunday that the threat was "more specific" than previous ones and the "intent is to attack Western, not just U.S. interests."
U.S. officials said the threat was tied to Al-Qaeda in the Arabian Peninsula. Terrorism experts said the plot may be a response to the killing of Abu Sufyan al-Azdi al-Shihri (see – Ex-Gitmo footage), the deputy leader of al-Qaeda's affiliate in Yemen, whose death was confirmed by the group last month.
"Al-Qaeda affiliates across North Africa and the Middle East are much stronger than they were a year ago," said Bruce Hoffman, a terrorism expert at Georgetown University. Hoffman cited two recent prison breaks carried out by al-Qaeda affiliates in Libya and Iraq as evidence that "they have access to heavy weaponry [and] can stage much more consequential attacks."
According to American sources, reliable information based on human intelligence and intercepted Al Qaeda  communications in the Middle East has raised concerns of a plan to attack American targets overseas – which led to the decision to close embassies in Israel, Egypt, Baghdad, Riyadh, Kuwait City and Bahrain and in 12 other locations.
UK, French and Germany said, on Saturday 08/03/2013, that their embassies in Yemen are to shut temporarily and several other embassies have been told to be vigilant after the US issued a global travel alert

(see – Sanaa 10.06.10).
Also on Saturday the Interpol issues global security alert linked to jailbreaks linked to suspected Al Qaeda involvement in recent prison breakouts. In a statement issued from its headquarters in Lyon, France, Interpol urged countries around the world to show "increased vigilance", following prison breakouts over the past month in nine countries, including Iraq (Taji-Abu Ghraib Jailbreak), Libya (Kwafiya Jailbreak) and Pakistan (Dera Ismail Jailbreak).
The warning issued by USA and the Interpol are already a  conscious victory to Al Qaeda.
* The alert was resulted from intercepted electronic communications in which the head of Al Qaeda in Pakistan Ayman Al Zawahiri, ordered the leader of its affiliate in Yemen, AQAP, Nasser al-Wehaishi, the terrorist organisation's most lethal branch, to carry out an attack as early as this past Sunday, according to US security officials on Monday 08/05/2013.
The intercepted conversations last week  revealed one of the most serious plots against USA and other Western interests since The 9/11, U.S. intelligence officials and lawmakers have said.
Given the modus operandi of AQAP  the fear is of suicide bombers with explosives inside their body either swallowed packed in condoms like drugs or planted inside the body by surgical means and to be detonated by a cell phones (see – Jeddah 08.27.09). 
* According to ABC news on 08/06/2013, two senior U.S. government officials briefed on the terror threat said Al Qaeda affiliate could use a new generation of liquid explosive, currently undetectable, in a potential attack. The new method allows terrorists to dip ordinary clothing into the liquid to make the clothes themselves into explosives once dry (see also – Atlantic Airliners Plot).
*** It is highly unusual for senior Al Qaeda leaders and especially for Ayman Al Zawahiri  to discuss operational matters through electronic means and it is possible that the conversation intercepted by USA is a fake bluff or a hoax (see also – New-York Hoax).
* Yemen's President
Abd-Rabbu Mansour Hadi
revealed in an interview to  state television aired on Friday 08/23/2013, details from intercepted phone call between Al Qaeda leaders which led to closure of dozens of Western embassies. 'We would carry out attack to change history,' one of them said.
Nasser al-Wehaishi made the pledge to Al Qaeda leader Ayman al-Zawahri on 07/29/2013.
The President added that two cars, each carrying 7 tonnes of explosives, were later identified in Yemen by security forces.
The first, intended to attack the Mina al-Dhabba oil terminal in Southeast Yemen, was destroyed. The second car was headed for the capital Sanaa and is still unaccounted for, though Hadi said authorities had arrested the cell which was in charge of smuggling it into the city.
* Related topics ;

















12/2009 -CHRISTMAS TERROR PLOT – FLIGHT 253
************************************
Read more