– 5 KILLED IN CHINA'S XINJIANG EXPLOSIONS
–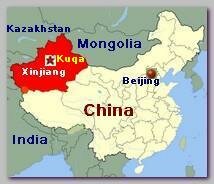 At least five people have been killed and three injured, on early Sunday 08/10/2008,  in a series of bombings in the western province of Xinjiang, China, in Kuqa, a town with 400,000 inhabitants.   
The five dead were suspects killed by the police at the scene after the blasts in the town of Kuqa  "Two police officers and a security guard were injured, and two police cars were destroyed," Xinhua Chinese news agency said, citing a local police spokesman.
The attack, committed by local separatist, targeted a group of 70 police officers as they jogged outside the building of the local police headquarters.
China blames the East Turkistan Islamic Party – [ETIP], which took responsibility on the Kashgar Attack committed 6 days earlier. The group released a video, on Thursday 08/07/2008, threatening attacks on China during the Olympic games in Beijing, according to internet monitoring groups in the United States.
* Related topics –
–
04/2008 -CHINA ARRESTED 35 TERROR SUSPECTS 
*******************
 Read more ;  
–