– 15 WOUNDED IN A JERUSALEM RAMPAGE ATTACK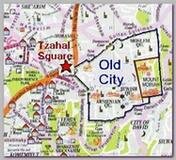 An Arab resident of Jabel-Mukaber in East Jeruslaem, identifies as Kassam Mughrabi, 19, rammed his vehicle, on Monday 09/22/2008 at about 23:00, into a group of of-duty soldiers at a central Jerusalem thoroughfare, wounding 15 people, before being shot dead by an IDF officer.
The attack, the third of its kind, took place at the city's Kikar Tzahal (Tzahal in Hebrew means IDF Square) near Jaffa Gate. Two of the casualties, an Israeli soldier and a female civilian, were in moderate condition, the rest were lightly hurt.
The assailant, who was driving a black BMW, crashed into a group of off-duty soldiers on the sidewalk, where his car came to a grinding halt.
Jerusalem police Chief Aharon Franco said that the attacker was shot dead "within seconds" by an off-duty IDF officer who was touring the city with his unit. Jerusalem was under heavy security alert due to Ramadan.  
The attack comes after two back-to-back bulldozer attacks in Jerusalem in July which left three Israelis dead and dozens wounded. (See – Hayessod Rampage and Jaffa Rampage).
Half an hour after the attack, dozens of angry Haredis (Radical religious Jews) residents chased two Arab locals who happened to be in the area. Many chanted racist slogans such as "Death to the Arabs" and tried to walk toward the Arab neighborhoods of East Jerusalem. Police on horseback dispersed the radical Jews, ensuring that the violence did not escalate.
Defense Minister Ehud Barak called to expedite legal processes so that security forces could demolish homes of terrorists in order to deter future attacks.
Jabel-Mukaber is the same village of Ala Abu Dhaim who committed the Mercaz-Harav shooting on 03/06/2008. The relatives of Kassam Mughrabi claimed he acted from despair because of broken heart. 
* Related topics ;
08/2008 -MOMENTS  OF TRUTH 
*******N********
 Read more ;