– ISLAMIC CLERICS BEHEADED IN SOMALIA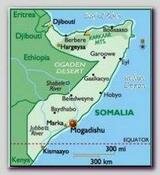 Militiamen have beheaded two clerics from a rival group in central Somalia, on Thursday 03/19/2009, Sheikh Abdullahi Abu Yusuf, a spokesman for the clerics' group said.
Thursday's beheadings took place after the vehicle in which the clerics were travelling was stopped on the way to a hospital.
The clerics were members of the Ahlu Sunna Wal-jama'ah group, which had been fighting with rivals from the al-Shabab movement.  Abu Yusuf blamed al-Shabab for the beheadings and said the clerics were unarmed when they were attacked. 
"They did not take part in the recent clashes, though they sustained wounds in a gun battle," he said. Ahlu Sunna Wal-jama'ah blamed al-Shabab for the recent fighting in the town of Balad, north of Mogadishu, and said it was only defending itself against al-Shabab attacks. Al-Shabab has not commented on the alleged beheadings. Rival members of the al-Shabab and Ahlu Sunna Wal-jama'ah have clashed repeatedly over control of the region.
On Thursday, Osama Bin Laden called on Somali fighters to overthrow Sheik Sharif Ahmed, who was elected in 01/2009 as the new Somali president (see – Square-One), saying he is a "tool" of the US. Counter-terrorism officials from the USA have warned of Al Qaeda's growing ties with the al-Shabab fighters.
Last year, the US state department added al-Shabab to its list of foreign terrorist organizations. Al-Shabab denies links to Al Qaeda and has distanced itself from the Somali opposition based in Eritrea, saying it is too secular.
* Related topics – 
–
01/2009 -15 KILLED IN MOGADISHU BLAST  
01/2009 -SOMALI EXECUTED FOR APOSTASY
Read more ;