BBC News
– SIX KILLED IN KAPISA, AFGHANISTAN
–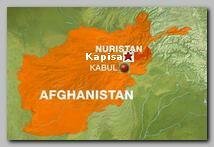 Three Afghan civilians and three foreign troops have been killed, on Tuesday 05/26/2009 morning, in a suicide car bomb attack north of the capital, Kabul, officials say.
The attack occurred in Kapisa province, where USA and French troops are deployed as part of the NATO-ISAF. The explosive-laden car rammed into a military convoy in Sayat district.
Kapisa is a strategically important province, near Bagram air base and close to the Kabul-Jalalabad highway.  
Afghan interior ministry spokesman Zemarai Bashary said the target of the attack was a convoy of international forces. "The initial report we have received says three civilians were killed and three wounded," news agency AFP quoted Mr Bashary as saying. The civilians were just passers-by and it was not yet clear who they were, he said.
* Related topics –  
–
***********-N-**************
Read more ;  
– EGYPT FOILED SINAI SUICIDE ATTACKS »