– ASHTON & CARLOS LARMOND ARRESTED FOR 'TERRORISM OFFENCES"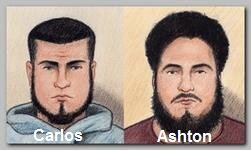 Two Ottawa brothers, Ashton & Carlos Larmond, have been charged, on Friday  01/09/2014, with terrorism related offences. Ashton Larmond was arrested in Ottawa while Carlos Larmond was arrested at Montreal's Trudeau international airport.
A Royal Canadian Mounted Police –  RCMP statement alleges that Ashton Carleton Larmond and Carlos Larmond, both 24, were planning to leave Canada to engage in terrorist activities abroad.
The RCMP say Ashton Larmondm whose passport  was revoked by the Canadian authorities in late 2014, is charged with facilitating terrorist activity, participation in the activity of a terrorist group and instructing to carry out activity for a terrorist group.
Carlos Larmond faces charges of participation in the activity of a terrorist group and attempting to leave Canada to participate in terrorist activity abroad.
A third suspect, Suliman Mohamed, 21, has been taken into custody, on Monday 01/12/2015 in connection with the investigation into hockey playing Ottawa twins arrested late on terrorism charges, including one as he was allegedly about to board a flight overseas. The RCMP confirmed the arrest was linked to Friday's arrests of Ashton and Carlos Larmond.
The charges are anchored in wiretapped cellphone conversations between Ashton and Carlos Larmond, The RCMP also intercepted texts from their cellphones. The twins dumped their phones sometime last year, convinced they were being followed by undercover cops at the rink and the gym.
Neighbours and friends say the Larmond brothers are both recent converts to Islam. The alleged acts of those who are young and new to the faith are troubling mainstream leaders.
Read more ;
 ********************
Related topics :
10/2014 – CANADIAN CONVERT RUNS DOWN 2 MILITARY STAFF
04/2013 – CANADA FOILED TRAIN BOMBING PLOT
03/2011 – MOHAMED HERSI ARRESTED IN CANADA
2011 – 2011  – WESTERN- JIHADISTS