– MULLAH ABDUL RAUF KHADIM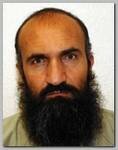 Mullah Abdul Rauf Khadim as born in 1981. , He's already been in the Afghan and Pakistani Taliban, detained at Guantanamo Bay since 12/2001 and  had been sent from Guantanamo to Afghanistan via Qatar in 2007. Mullah Abdul Rauf was in Afghan custody up to 2009 and then released . Following his transfer to Afghanistan, Rauf reportedly pledged allegiance to ISIS leader Abu Bakr al-Baghdadi and began actively recruiting for the group in the country.released from prison, become a recruiter for I.S.I.S  and, on 01/28/2015 , reportedly captured by the same group that launched his jihadist career – the Taliban in Southern Helmand province. .
Abdul Rauf Khadim  was seized  along with 45 other suspected ISIS members, a Taliban commander told the Afghan news website Pajhwok. The move signals growing tension between the Taliban and I.S.I.S  .
That is why the Taliban poses a threat to ISIS. It is one of the only groups, other than ISIS, with a nearly undisputed territory to govern. What's more, the Taliban has transcended the label of "terrorist group" and gained a kind of legitimacy from governing in Afghanistan — first almost the entire country in the 1990s and then, after the 2001 U.S.-led invasion, parts of it.
Few days later, on 02/09/2015, Mullah Abdul Rauf Khadim was killed in a U.S. UAV  missiles  strike in Helmand along with 5  other militants when the drone targeted a car loaded with explosives .
Related topics :
03/2015 – BOKO HARAM PLEDGES ALLEGIANCE TO ISIS
09/2014 – ISIS THRIVES – JUND AL-KHILAFA
11/2013 – ANSAR BAIT AL-MAQDIS
02/2012 – FOREIGN MILITANTS KILLED BY AN U.S DRONE IN SOMALIA
*******************************
Read more ; 
IBTIMES-A   
IBTIMES-B   
BLAZINGCATFUR