– KRESHNIK BERISHA, DAVID G. & MUSTAFA K.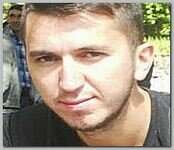 * Kreshnik Berisha, born in 1993 in Frankfurt to Kosovan parents, is the first suspected member of ISIS to stand trial in Germany, was arrested upon his arrival back in Frankfurt, in 12/2013,  after spending six months in Syria,
Kreshnik Berisha, played with the Jewish football team  Makkabi Frankfurt, Germany's largest Jewish sports club.
 Kreshnik Berisha is expected to receive a sentence of between three to four-and-a-half years for allegedly being a member of a foreign terrorist organization. Judge Thomas Sagebiel is offering a more lenient sentence than usual in exchange for a confession and information about I.S.I.S. In his statement, Berisha told the court how he was hoping to lead a normal life after serving out his sentence.
————
* David G. was born in Germany in 1995, in Kempten, Bavaria, and had close contact to a group of young Islamists from Dinslaken, North Rhine-Westphalia.  in the age of 16, in 2011, David G. converted to Islam . He dropped out of his electrician's apprenticeship and stopped boxing. He associate himself to a Salafidt group in Germany, formed by Denis Cuspert and Mohamed Mahmoud – the Millatu Ibrahim.
When Mustafa K. his friend and probably also his mentor, moved to Syria, David G. sold his books at the flea market in Kempten and wrote a farewell letter. His first attempt, in mid 2013, to leave the country ended at the Munich airport. His parents suspected that he was planning to leave, and they notified the police months earlier. Soon afterwards, David G. took a train to Serbia via Hungary. From there, he apparently reached Bulgaria and then Turkey on foot, heading for his final destination, Syria. In Syria he adopted the name Abu Dawud al-Almani (from Germany) .
David G. was killed in Syria in mid 01/2014, in the age of 19, in an ambush by rival rebels from the Free Syrian Army.while fighting with the Islamic State.
—————————–
* Mustafa K, born in 1990, is a Muslim convert and a friend and mentor of David G. , comes from the Lohberg neighborhood in the town of Dinslaken in western Germany. Indeed, according to the German public broadcaster WDR, no less than seven young men from Lohberg have gone to perform jihad in Syria, together they were known in Syria as the Lohberg Group. Mustafa K. arrived to Syria in mid 2013
In 02/2014 Mustafa K. posted in his facebook account pictureS of him and his friends in the Syrian city of Azaz holding a decapitated head  He was killed iabout a year later, in 01/2015, in Syria.
Related topics : 
06/2013 – JIHADISTS THREATEN EUROPE WITH FLYING MODELS  
08/2012 – GERMAN TALIBAN THOMAS U. CHARGED WITH TERROR 
05/2011 – GERMAN SUSPECT AHMED MUELLER PROBABLY IN SOMALIA  
03/2011 – DENIS MAMADOU CUSPERT – ABU MALEEQ
**************************
Read more ; 
CNN EDITION  
TELEGRAPH-U.K
DER SPIEGEL
DER SPIEGEL-B
KASHFINIGAB
PANTERES.CON
AL-MONITOR