– JERUSALEM RAMPAGES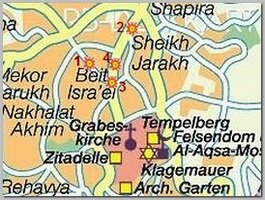 1 – A pedestrian, later identified as Nabli Abed Alkhay. was killed and six other people were wounded Monday afternoon when a terrorist went on the rampage in an industrial digger in central Jerusalem, on 08/04/2014 at about 13:30. The terrorist hit the man as he walked on the street, as well as a bus and a car before being shot dead by an officer from the Israel Prison Service who was in the area.  "this was traffic accident which sealed his fate, " a relative of Nabli Abed Alkhay told reporters . The attack appeared to be a backlash against Israel's Gaza war.
————————-
2 – On 10/22/2014 A three-month-old baby and an Kuwadorian tourist were  killed and seven other people were wounded on Wednesday evening when a Palestinian drove his car into a light rail train station near Ammunition Hill in Jerusalem and ran over over passersby disembarking from the train. was identified as Abdel Rahman Al-Shaludi, a Palestinian resident of the East Jerusalem neighborhood of Silwan, who in the past served prison time for security offenses.
——————————————
3 – In Jerusalem, on 11/05/2014,  in what authorities are calling a vehicular terror attack. The driver rammed his vehicle into crowds at two separate locations near the light rail track in Jerusalem. Immediately after hitting eight pedestrians, security forces nearby shot and killed the driver. Border Police officer Jidan Assad, 38, from the Druze village of Beit Jaan died of injuries and 14 others were hurt, three of them seriously. the perpetrator of the attack was identified as Ibrahim al-Acari, a resident of the east Jerusalem village of Shuafat. Like all east Jerusalem residents, he was a holder of an Israeli identity card, enabling him to move freely throughout the capital.
—————————————–
4 – On Friday 03/06/2015 at about 10:00  a hit-and-run terror attack occurred at about 10:00 near the Border Patrol's base in the Shimon HaTzadik neighborhood in Jerusalem.running over five of whom four were from the Border Police. The suspect continued driving but was shot by forces stationed at the gate of the base, at which point he got out of the car with a knife apparently in his hand. The perpetrator was identified as Muhammad Salayma, 22,  resident of one of the Arab Ras-el-Eyn neighborhoods of Jerusalem.
———————————–
Shalom Yohai Sharki and Shira Klein were hit, on Wednesday 04/15/2015 night,  by Palestinian Khaled Kotina, 37 from 'Anata in East Jerusalem, while waiting at a bus stop at the French Hill junction in Jerusalem. Khaled Kotina eventually admitted he intended to harm Jews and made the decision shortly before he committed the attack in the French Hill neighborhood,
————————-
On Wednesday 05/20/2015, Israeli forces shot and killed a Palestinian in the al-Tur neighborhood east of Jerusalem's Old City after he allegedly attempted to run over border guard officers with his vehicle, leaving two moderately injured.
———————-
Two Israeli teenager, 17, were stabbed in the Old City of Jerusalem, on Saturday 05/23/2015 late night, and injured. the assailant was captured by the Israeli Police.
Note :   
Most of the car rampage attacks are against the stations of Jerusalem's Light Railway in the Arab neighborhoods of jerusalem. The Light Railway, initially designed and planned to ease the accessibility of East jerusalem residents to the commercial centers of West Jerusalem is considered by many as the symbol of Jewish or Israeli occupation of East jerusalem.
Related topics ;
–
03/2009 – ANOTHER RAMPAGE ATTACK IN JERUSALEM  
09/2008 -15 WOUNDED IN A JERUSALEM RAMPAGE ATTACK  
07/2008 – MORE RAMPAGE ATTACK IN JERUSALEM  
07/2008 – RAMPAGE ATTACK IN JERUSLAM
**************************** 
Read more ;
YNETNEWS-A   
ISRAELNATIONALNEWS  
HAARETZ-A  
HAARETZ-B  
YNETNEWS-B
YNETNEWS-C
JTA.ORG
ALBAWABA