– ISIS CLAIMED ATTACK ON S. KOREAN & MOROCCAN TRIPOLI EMBASSIES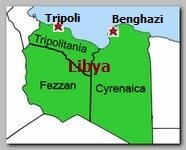 * I.S.I.S, on 04/12/2015, has reportedly launched an attack on the South Korean embassy in Libya, killing at least two people.
Korea's Yonhap news agency quoted foreign ministry officials in Seoul, who said the attack was carried out by "an armed group of Islamic militants" who fired on the front of the embassy compound in Tripoli.
Local media reports described the incident as a "sniper"-style attack and said that the car fled the scene afterwards.
ISIS-linked Twitter accounts boasted of shooting dead "two guards of the embassy of South Korea" and claimed that they were responsible for reporting information from inside Tripoli to the USA.
An alert put out by SIS's media arm said: "Soldiers of khilafah ( Jund al-Khilafah )" neutralised the guards of the South Korean embassy". Reports suggesting two men may not have been an employee of the embassy.
** Later, on Monday 04/13/2015 morning, a bomb exploded at the gate of the Moroccan embassy in the Libyan capital causing some damage but hurting nobody,. The attack was also claimed by ISIS.
Related topics ;
02/2015 – EGYPT RESPONDED TO THE BEHEADING OF 21 COPTS IN LIBYA
10/2013 – LIBYAN ANARCHI – PM SEIZED BY ARMED GANG
04/2013 – FRENCH EMBASSY IN LIBYA ATTACKED
09/2012 – AQ BENGHAZI ATTACK
*****************************
Read more ;
INDEPENDENT-U.K
CHANNELNEWSASIA
ALARABIYA