– 12 KILLED IN SINAI DOUBLE BOMBING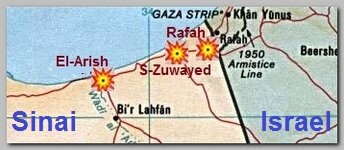 A second blast, On Sunday 04/12/2015, in Egypt's Sinai Peninsula – the hotbed for Jihadi militants – struck a police station raising the death toll to 10 people killed on the same day.
The car bombing killed three soldiers and one civilian and wounded 35 including 20 military recruits in al-Arish, the capital of the northern Sinai province,  Residents say the explosion outside one of four main police stations in al-Arish shook the surrounding neighborhood.
The bombing came hours after a roadside blast targeted an army vehicle killing six soldiers and wounding two in the peninsula, where security forces are battling the local I.S.I.S Sinai branch, also known as Ansar Bayt al-Maqdis. The explosion targeted a military vehicle near the town of Sheikh Zuweid in Sinai.
The northern Sinai is the epicenter of an insurgency that has killed hundreds of members of the security services mid-2013, when then-army chief Abdel Fattah al-Sisi ousted Egypt's Islamist president Mohammad Mursi after mass protests against his rule.
A day earlier, on 04/11/2015, The Islamic State group have posted a video online appearing to show them shooting dead an Egyptian soldier and beheading another captive. The video, uploaded overnight on social networks, shows an individual telling the camera that he is an Egyptian soldier who was captured in an ambush on an army outpost in North Sinai on 04/02/2015..
Attacks claimed by jihadists that day killed 15 soldiers and two civilians near the regional capital of El-Arish, the deadliest assault for months despite a massive army campaign against insurgents on the Sinai Peninsula.
* Egyptian military intelligence has revealed  that some military officers and soldiers have adopted extremist ideas and joined terrorist organizations in Sinai, which has been a hotbed of violent religious extremism in recent months.
* Egypt's defence minister carried out a limited military reshuffle, replacing some of the commander of the army division responsible for securing northern Sinai.
** Egypt is facing a long terror campaign for several years to come.
Related topics ;
03/2015 – SINAI TERROR CAMPAIGN 
02/2015 – EGYPT RESPONDED TO THE BEHEADING OF 21 COPTS IN LIBYA 
09/2013 – 11 EGYPTIAN PERSONNEL KILLED BY SUICIDE BOMBERS 
09/2013 – EGYPT'S INTERIOR MINISTER ESCAPED ASSASSINATION ATTEMPT 
*******************************
Read more ;
ALARABIYA  
DAILYMAIL 
BBC NEWS
CTVNEWS
THETOWER