– 2 LUTON SUSPECTS PLEADED 'NOT GUILTY'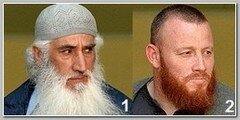 Two British citizens, Shah Jahah Khan (1), 62, of St Catherine's Avenue, Luton and Muslim convert Ibrahim Anderson (2), 38,  of Dallow Road, also in Luton, accused of  handing out leaflets on a London street in support of the Islamic State of Iraq and Syria – I.S.I.S militant group have pleaded, on 04/21/2015,  not guilty, UK paper The Daily Mail reported on Tuesday.
 Shah Jahah Khan and  Ibrahim Anderson were arrested in 12/2014 and were charged with terrorism offences on 03/26/2015 following an investigation by the Metropolitan Police's Counter Terrorism Command.
Shah Jahah Khan and  Ibrahim Anderson both denied a charge of soliciting support for ISIS, blacklisted by UK authorities as a terrorist organization.
In August last year, the two men are alleged to have handed out the material on London's busy Oxford Street, hailing the establishment of the "khilafah" – a reference to ISIS's declaration of an "caliphate" under the leadership of its self-declared caliph Abu Bakr al-Baghdadi.
While the leaflets avoided directly mentioning ISIS, "an expert in Islamic studies has concluded the only circumstances the leaflets could possibly be making reference to are the declaration by ISIS and its leader of the establishment of an Islamic State last summer," Prosecutor Adam Harbinson told the court, according to the Daily Mail.
Related topics : 

04/2015 – TURKEY HELD BRITISH FAMILY HEADING TO ISIS  
03/2015 – 9 BRITISH STUDENTS 'HEADING' TO ISIS 
02/2015 – 3 MORE BRITISH TEEN GIRLS TRAVELED TO SYRIA  
04/2012 – AN ISLAMIC CELL OF 5 UNCOVERED IN LUTON, U.K 
***********************
Read more ;