ISIS DEPUTY – ABU ALAA AL-AFRI – KILLED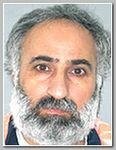 * Abu Alaa al-Afri, also known as 'Haji Imam' and whose real name is Abdel Rahman Moustafa Qaduli, is a professor of physics and a teacher in Tal Afar [northwestern Iraqi city] in Nineveh, and has dozens of publications and religious (shariah) studies of his own," he says. "He is a follower of Abu Musaab al-Suri [prominent jihadi scholar]."  and a long-term member of I.S.I.S  (The name 'al-Afri' means from Tel Afar).
Abu Alaa al-Afri is believed to have travelled to Afghanistan in 1998 before becoming a senior member of Al Qaeda after its future Iraqi leader Abu Musab al Zarqawi pledged allegiance to the terror group in 2004. He oversaw the sharia authorities in northern Iraq and "was very strict", according to Dr. Hisham al-Hashimi, senior adviser on Isis to the Iraqi government.
Abu Alaa al-Afri was touted as successor to the group's previous leader, Abu Omar al-Baghdadi, who was killed in a US-led raid near Tikrit in 04/2010, as Osama Bin Laden 's preferred choice for Emir of al-Qaeda in Iraq,  Abu Bakr al-Baghdadi assumed the mantle of leader in the days following his predecessor's death. Abu Alaa al-Afri Afri has dramatically risen to prominence since early 2013, when the group first made its presence felt in Syria's civil war (see also – SYRIAN DILEMA ).
According to Hassan Hassan, Middle East analyst and ISIS expert, Afri is "one of its most important players Abu Alaa [Afri] seems to have become more prominent in recent months, especially after the group began to suffer tactical defeats in Syria and Iraq since December (2014). He replaced [ISIS's Syria governor Abu Ali] al-Anbari as al-Baghdadi's top man after al-Baghdadi became less involved in decision making for security reasons," Hassan said..
"They have a lot of confidence in al-Afri," said Dr. Hisham al-Hashimi, "He is smart, and a good leader and administrator. If  Abu Bakr al-Baghdadi  ends up dying, he will lead them." "After al-Baghdadi's wounding, he [al-Afri] has begun to head up 'Daesh' [the Arabic term for ISIS] with the help of officials responsible for other portfolios." al-Hashmi said.
Two ISIS insiders said that the US-led airstrikes, in 03/2015, which have also involved Jordanian and GCC fighter jets, have taken a heavy toll on the organisation's numbers, critically wounded Abu Bake al-Baghdadi  and increasingly its morale, according to the British Guardian, on 05/01/2015.
While details about Abu Alaa al-Afri's personality are limited, it is believed that he leans toward reconciliation with rival extremist group al-Qaeda and its Syrian affiliate Jabhat al-Nusra and prefers that ISIS's leadership structure is composed half of Arabs and half of foreign members of the group, according to Dr. Hisham al-Hashimi.
** The Iraqi Ministry of Defense reported that Abu Alaa al-Afri had been killed in a US-led coalition airstrike in Tel Afar, on 05/12/ 2015, along with dozens of other I.S.I.S militants that were present. U.S Spokesmen were unable to corroborate the reports, with some unnamed officials expressing skepticism of the Iraqi claims .  
** The USA has announced, on Friday 03/25/2016, that it has killed,  a number of leading Islamic State (IS) militants in the past week, including the purported second-in-command Abdul Rahman Mustafa al-Qaduli .  Defence Secretary Ashton Carter said the deaths of al-Qaduli and other members of the group's "cabinet" would hamper its operations. 
However, NBC News earlier reported al-Qaduli was killed during a raid by US special forces in Syria on Thursday 03/24/2016 morning. Defence officials said the troops landed in helicopters and lay in wait as Qaduli drove past them in a car. There was an attempt to capture Qaduli alive, but the situation escalated and the militant and three other people in the vehicle were killed, the officials added.
–
Related topics :
–
04/2015 – 93 ISIS SUSPECTS NABBED IN SAUDI ARABIA  
04/2015 – ISIS SPOKSEMAN ADNAN AL-SHAMI 
PROFIEL – GENERAL IZZAT IBRAHIM AL-DOURI 
PROFILE – INTELLIGENCE COLONEL SAMIR AL-KHLIFAWI – HAJI BAKR
*****************************
Read more ;
THE GUARDIAN
KHAAMA.COM
INDIANTIMES
COUNTERTERRORREPORT
CNNHIT.CON
WIKIPEDIA-ABU-ALAA
BBE BEWS