– SUSPECTED HIZBALLAH AGENT ARRESTED IN CYPRUS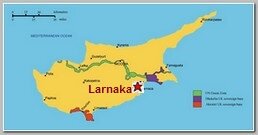 Cypriot police suspect a man arrested on Wednesday was planning an attack on Israeli interests on the island after they found almost two tonnes of ammonium nitrate in his basement, newspapers reported on Friday 05/29/2015. The 26-year-old man is Lebanese-born and has a Canadian passport. He was detained by police after authorities discovered the stockpile. He was later identified as Hussein Bassam Abdallah .
Police suspect Israeli interests were the target, the Simerini, Politis and Phileleftheros newspapers said. The unnamed individual may have a close link with the group's leader, Sayyed Hassan Nazrallah, two newspapers said.
"There is some information that he could possibly be connected with them (Hezbollah), and this is something that is under investigation," a security source told Reuters, requesting anonymity. The suspect arrived in Cyprus in the third week of May and stayed in the coastal town of Larnaca. The ammonium nitrate — a fertilizer that can create a powerful explosive if large quantities are mixed with other substances — was found in its basement.
Police declined to comment beyond saying they are investigating all possibilities.
A Cyprus criminal court, on Monday 06/29/2015,  sentenced Hussein Bassam Abdallah (pic-l) to six years in prison after he pleaded guilty to all eight charges against him in connection with the seizure of 9 tons of a chemical compound that can be converted into an explosive.
Cyprus has little militant-related activity despite its proximity to the Middle East. The island, which is in the EU, hosts two British military bases and receives intelligence from Western agencies.
Its last major security incident was a botched attack on the Israeli embassy in 1988, which killed three people.
In 2013 a Swedish citizen of Lebanese descent was jailed in Cyprus on charges of plotting to attack Israeli tourists.
Related topics ;
–
05/2015 – 2 SENIOR HIZBALLAH LABELED BY SAUDI AS 'TERRORISTS' 
03/2015 – SENIOR HIZBULLAH AND IRANIAN OFFICERS KILLED 
07/2012 – A LEBANESE TERROR SUSPECT ARRESTED IN CYPRUS 
07/2012 – BURGAS BOMBING INVESTIGATION
***************************
Read more ; 
JEWISHJOURNAL  
HAARETZ-IL
YNET-NEWS