– HAMAS'S NEW ENEMY – THE ISLAMIC STATE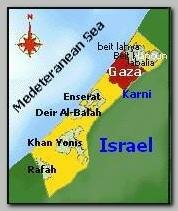 * A Jaljalat group operating in Gaza and which says it is associated with I.S.I.S (Daesh) has claimed, on 06/02/2015, that it killed, on Sunday 05/31/2015, a top Hamas commander. According to the group, which calls itself the Army of the Islamic State, Saber Siam was killed when ISIS operatives placed a bomb on his car, blowing it up with him inside.
Saber Siam was killed, the group said, because he was "a partner in a declared war against religion and against Muslims, working for the heretical government in Gaza." The Islamic State already warned Hamas  to immediately "end its war against religion in Gaza" or "face the consequences."
The group also sent out warnings on social media to Gaza residents to stay away from Hamas offices and buildings, lest they find themselves swept up in attacks against the group.
In response Hamas forces have killed an Islamic State group supporter Youssef al-Hatar, 27, described as a locally known Salafist leader and possibly affiliated with ISIS. He was killed in a shootout with Hamas security forces when they came to arrest him at his home in Sheikh Radwan in the northern part of Gaza City. The first fatality since Gaza's Islamic rulers launched a crackdown on the more-radical group months ago.
On 05/26/2015 a Grad rocket was fired from Gaza Strip to Israel and exploded near Gan-Yavne, some 30 k'm North East to Gaza City when two PALESTINIAN Islamic Jihad operatives confronted their colleagues in the organization .
A Hamas source told the Israeli Ynet-news a day later that the group had arrested those behind the rocket strike.
"What happened yesterday (the rocket fire) goes against the interests of the Palestinian factions in the Gaza Strip and against our national interests," the source said. "We consider the rocket fire to be a dangerous thing."
Rekated topics ;
–
03/2015 – OPERATION 'PROTECTIVE EDGE' (STRONG CLIFF)    
09/2012 – ANSAR BAIT AL-MAQDIS  
04/2011 – VITTORIO ARRIGONI KIDNAPPED AND KILLED IN GAZA STRIP 
08/2007 – JAISH AL-ISLAM – ARMY OF ISLAM
**************************
Read more ; 
ALBAWABA
FT.COM
IBTIMES
YNETNEWS
MEREDITH