– 2 SOUSSE SHOOTER'S ACCOMPLICES WANTED IN TUNISIA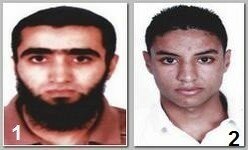 A manhunt was launched last night for two accomplices wanted in connection with the Tunisian Sousse massacre. On-the-run Mohamed bin Abdallah (1)  and Rafikhe Tayari (2) are believed to have assisted crazed Seifeddine Rezgui. The Tunisian Interior Ministry published their faces on its Facebook page and begged the public for information on the duo.
Mohamed bin Abdallah is a 24-year-old student from a northern Tunisian town, while  Rafikhe Tayari, 28, is from the capital Tunis. Officials requested information on their whereabouts or movements.
Fears are mounting that at least one the accomplices of Seifeddine Rezgui.acted as a second gunman and may be still on the loose.
The news came as Tunisian interior minister Mohamed Gharsalli announced the arrests of seven Tunisians allegedly linked to Seifeddine Rezgui.They were arrested in at least three different cities and are being questioned in the capital, Tunis.
But police and eyewitness are increasingly convinced he had a gun-toting partner during Friday's rampage.
Retired British police officer Steve Johnson,  who witnessed the attack first hand, ,told today how a second gunman in red shorts opened fire on tourists on the beach in Tunisia.
Related topics :
06/2015 – 10 TUNISIAN STAFF SEIZED IN TRIPOLI, LIBYA
03/2015 -IT SMELLS LIKE ISIS – TUNIS SHOOTING RAMPAGE 
03/2015 – ISLAMIC COUP FOILED IN TUNISIA  
09/2013 – ANSAR AL-SHARIA IN TUNISIA   
03/2012 – THOUSANDS RALLY FOR "SHARIAA LAW" IN TUNISIA  
——————————
Read more ;