– ALAA AL-HASHEMI SENTENCED TO DEATH IN ABU DHABI
–
A United Arab Emirates ( UAE ) court sentenced, on 06/29/2015,  an Emirati woman,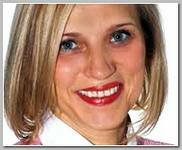 Alaa Bader Abdullah al-Hashemi (pic-L), to death after convicting her of the jihadist-inspired murder of an American teacher,
Alaa Bader al-Hashemi was found guilty of stabbing to death teacher Ibolya Ryan, 47,  (pic botton), a Romanian-American kindergarten teacher, in a shopping mall toilet, as well as "creating a handmade bomb" she placed in front of an Egyptian-American doctor's home, the paper said.
The ruling was made by the Federal Supreme Court in Abu Dhabi, which means it cannot be appealed.
The attacks took place within hours of each other in the UAE capital on 12/01/2014. Alaa al-Hashemi was arrested by Abu Dhabi CID during a raid at her home three days after the incident.
Alaa al-Hashemi  "was also found guilty of sending money to Al-Qaeda in Yemen ( AQAP ), knowing the funds would be used in terrorist acts," The National said.
Alaa al-Hashemi  surrounded by four police officers, "showed no emotion as the verdict and sentence were announced," the daily said.
Alaa al-Hashemi  had asked the court to provide her with psychological help, saying she had "unreal visions" and would see "ghost-like people" due to a chronic mental illness.
.
* Alaa al-Hashemi was executed on 07/13/2015.
Related topics ;
06/2015 – ISIS CLAIMS KUWAIT'S SHIA MOSQUE BOMBING
04/2015 – IBRAHIM AL-RUBAISH KILLED BY A DRONE IN YEMEN
03/2015 – YET ANOTHER SHIA-SUNNI WAR – YEMEN
08/2013 – THREAT ON U.S CONTINGENTS IN THE MUSLIM WORLD
————————-
Read more ; 
ALARABIYA 
WIKIPEDIA-RYAN 
INDEPENDENT-U.K