– HISHAM AL-ASHMAWY – A THREAT TO SISI
–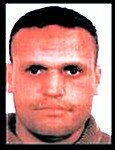 * Hisham Al-Ashmawy is a former special forces officer turned Islamist militant. He is one of Egypt's most wanted militants called on his fellow countrymen to wage holy war against President Abdel Fatah Sisi.
An audio message attributed to Hisham al-Ashmawy, who security officials suspect masterminded the recent car bomb assassination of Egypt's top prosecutor, said the country is "overpowered by the new pharaoh" Sisi. "All of you must come together to confront your enemy. Do not fear them, but fear Allah if you are truly believers," he said in the audio message according to U.S.-based monitoring group SITE, which it said was posted on 07/20/2015 on an al Qaeda -affiliated forum. The comments coincided with the Eid al-Fitr holiday just marked by Muslims.
Hisham al-Ashmawy identified himself by the nom de guerre of Abu Omar al-Muhajir al-Masri and as Emir of the al-Murabiteen group.
Hisham al-Ashmawy, who has been on the run for years, is part of a small but highly dangerous succession of former Egyptian army officers who have joined militant groups, complicating Sisi's efforts to confront what he calls an existential threat from extremism.
Hisham al-Ashmawy is described by security officials as the leader of I.S.I.S Sinai Province's military training committee. His cell carried out an operation in October that killed 33 members of the security forces in one of the bloodiest attacks in years.
Related topics ;
07/2015 – ISIS STRUCK AN EGYPTIAN PATROL BOAT
07/2015 – DOZENS OF EGYPTIAN TROOPS KILLED IN TERROR RAMPAGE IN SINAI
06/2015 – MILITANTS IN EGYPT STEP UP THEIR ECONOMIC CAMPAIGN
04/2015 – 17 EGYPTIAN KILLED IN SINAI RAMPAGE
———————-
Read more ;