– ARAFAT NAGI, A BUFFALO TERROR SUSPECT, ARRESTED
–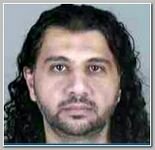 The FBI, on Wednesday 07/29/2014 morning, executed a warrant at the home of Arafat Nagi, 44, on Olcott Street in the Buffalo suburb of Lackawanna and 6 children, n their 20s', were seen leaving the house.
Arafat Nagi is from Yemeni descent but was born in USA. He is accused of attempting to support a terrorist organization. Nagi allegedly attempted to join the Islamic State (ISIS) and pledge allegiance to the terrorist organization. In two separate trips, Arafat Nagi traveled from Lackawanna to Turkey, the criminal complaint alleges, and he purchased items including military combat gear such as night vision goggles and black flags which are sometimes associated with ISIS.
Arafat Nagi's first trip, in 10/2012, only lasted one day due to a medical issue, but the second trip took place, in 07/2014, and lasted 10 days, according to William Hochul, The U. S. Attorney on the case in a press conference in Buffalo, New York . The complaint also alleges that the Lackawnna community said that Nagi espouses violent jihad and believed that he constituted a threat to those in the U.S. According to authorities he was working alone in the USA .
According to the criminal complaint against Arafat Nagi, officials were first tipped off about his jihadi dreams from 'a person previously convicted of terrorism offenses who is cooperating with the government.'
Arafat Nagi has a criminal history in the area — including a 2013 incident which placed him on police radar — he was accused of threatening to behead one of his children,a 19 -year-old daughte .
Arafat Nagi said in Federal Court on Wednesday that he used to work as a delivery man for a medical supply company, but that he hasn't worked since 2009. Arafat Nagi remains in custody pending a detention hearing on Friday 07/31/2015 in connection to his current arrest.
.
Related topics ;
07/2015 – LEON DAVIS SENTENCED TO 15 YEARS FOR TERROR
07/2015 – 5 MARINES KILLED IN TENNESSEE TERROR SHOOTING
06/2015 – AHEAD OF 4TH OF JULY U.S ARRESTED ALAA SAADEH
06/2015 – TERROR SUSPECT USAAMA RAHIM KILLED BY FBI IN BOSTON
05/2015 – ARIZONA – THE NEXT 'MUHAMMAD CARTOONS' ROW
————————-
Read more ;