BBC News
– ISIS BEHEADED 10 TALIBAN FIGHTERS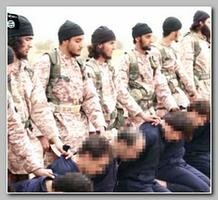 A group loyal to the Islamic State beheaded 10 Taliban fighters in Nangarhar province, Eastern Afghanistan near the border with Pakistan after fierce clashes between the two sides, Press TV reports.
According to Press TV correspondent,the clashes erupted with an exchange of heavy gunfire. ISIS (Daesh) took some of the Taliban militants hostage and cut off their heads.
Local authorities have confirmed the report.
Daesh has reportedly been recruiting volunteers in Afghanistan over recent months, in what is believed to be aimed at establishing sanctuaries in areas traditionally seen as Taliban strongholds. They have demanded that the local Taliban pledge allegiance to their group.
Over the past few months, the two militant groups have frequently engaged in clashes in troubled Afghanistan.
Insecurity still lingers on in the war-torn country despite the presence of foreign troops.
Related topics :
–
05/2015 – ISIS THREAT SPREADS ALL OVER
05/2015 – US- TRAINED TAJIKI SPECIAL POLICE CHIEF JOINED ISIS
03/2015 – THE TALIBAN OFFENSIVE ON KUNDUZ , NORTHERN AFGHANISTAN
08/2012 – 17 BEHEADED IN AFGHANISTAN VIOLENCE
****************************
Read more ;