– 41 ISIS SYMPATHIZERS TO BE CHARGED IN U.A.E
–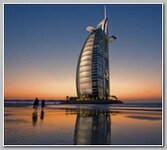 The United Arab Emirates – UAE – is to try 41 people on charges of seeking to overthrow the government to set up an I.S.I.S group-style caliphate, prosecutors said on Sunday 08/02/2015.. Such mass trials on terrorism charges are rare in the UAE which has largely been spared the Islamic militancy that has hit other Arab states.
The suspects, who include Emiratis as well as foreigners, are accused of setting up a group "with a terrorist Sunni radical Takfiri ideology, in a bid to "seize power and establish a caliphate," the prosecutor general said in a statement carried by the official WAM news agency. They are accused of setting up cells to train members in handling weapons and the manufacture of explosives in preparation for attacks on UAE soil and were in contact with foreign terrorist organizations
The UAE is part of the U.S.-led coalition that has been carrying out air strikes against ISIS in Syria since 09/2014 but nowadays is fading away.
Last month, UAE adopted new legislation imposing heavy prison terms or even the death penalty for those convicted of membership of "takfiri" groups.
–
* Takfiris regard Muslims who do not follow their extreme interpretation of Islam as apostates punishable by death.
Related topics ;
07/2015 – 431 ISIS MILITANTS NABBED IN SAUDI ARABIA
06/2015 – ISIS CLAIMS KUWAIT'S SHIA MOSQUE BOMBING
06/2015 – SAUDI IDENTIFIED BOMBER AND 16 OTHER MILITANTS
05/2015 – ISIS THREAT SPREADS ALL OVER
04/2015 – 93 ISIS SUSPECTS NABBED IN SAUDI ARABIA
——————————–
Read more ;