– WHERE IS BOKO HARAM'S LEADER ?
–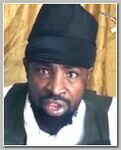 Boko Haram  have released, on Monday 08/03/2015,  a new video on the insurgency in Nigeria, with Boko Haram leader Abubakar Shekau again failing to appear in it. His continued absence has increased speculation about his fate.
Abubakar Shekau was last heard from in 03/2015, when he released an audio message pledging allegiance to the Islamic State (ISIS).
The military said, on Sunday 08/02/2015, that it had freed 178 people held captive by Boko Haram in north-eastern Borno state, and had killed a commander following airstrikes on its bases.
In the new  eight-minute video, an unidentified young man speaks in the name of the Islamic State in West Africa calling on people to be patient: "We are still present everywhere we had been before."  Abubakar Shekaualso failed to appear in a Boko Haram video released in June 2015. This will renew speculation that he is either deep in hiding, or has been wounded and even killed.
The video is gruesome, but its production sleek and this suggests that it was produced with the help of ISIS-allied propaganda units  The young militant spoke in the regional Hausa language, with an accent from the Kanuri ethnic group, to which Abubakar Shekau belongs.
The US government has offered a reward of up to $7m (£4.6m) for information about Abubakar Shekau's  location.
* Related topics ;
07/2015 – 20 KILLED IN CAMEROON SUICIDE BOMBING
07/2015 – NIGERIAN LED FORCE TO FIGHT BOKO HARAM TO BE SET UP 
07/2015 – 64 KILLED IN JOS, CENTRAL NIGERIA  
07/2015 – ABOUT 150 KILLED IN BOKO-HARAM'S RAMADAN OFFENSIV 
04/2015 – BOKO HARAM'S LAST STAND IN SAMBISA FOREST

———————-
Read more ;