– CONFUSION ! – US TRAINED MILITIA REFUSES TO FIGHT ISLAMISTS
–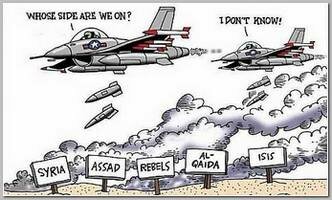 "Brigade 30" is a group of U.S.-trained Syrian "moderate' rebels , who according to USA Strategy are supposed to fight the Islamic State and/or Jabhat al-Nusra and to be an available alternative to both Bashar Assad's pro Iranian regime in Syria and to the takeover of Jihadi Islamists in the country. They were trained in Jordan but instead of few thousands qualified fighters only few dozens finished the training program according to USA standards. They were first sent to battle in early 07/2015 but their performances were very poor. It turned out that the battlefields of Syria and Iraq trained way more than any training camp in Jordan.
As "Brigade 30" joined the fight in chaotic Syria it endured a campaign of kidnappings by the Nusra Front, including some of their officers According to reports from Syria, on Thursday 08/06/2015, Brigade 30 have declared their refusal to fight al-Qaeda's affiliate in the country, The Guardian reported. They also said they oppose U.S. airstrikes against Jabhat al-Nusra. US has diverted airpower for the specific mission of providing coverage to the group under siege in Southern Syria. .
In late 07/2015 al-Nusra Front vowed to cut off "the arms" of the American government in Syria when they attacked headquarters of Division 30, killing at least five fighters.
Al-Nusra Front detained the rebel group's commander Col. Nadim al-Hassan along with six others last week. A source in the U.S.-backed group claimed those captured were families of the fighters.
On Tuesday, the Pentagon also said members of the Free Syrian Army (FSA) who went through the new U.S. training program to fight Islamic State of Iraq and Syria (I.S.I.S) militants have been captured by al-Nusra Front.
* On last Thursday 08/04/2015, two years after Russia and USA agreed to dismantle Syria from all its chemical weapon, they reached a new deal aimed at identifying the perpetrators of chemical weapons attacks in Syria – so yes, there is still chemical weapon in Syria although in much smaller quantity,
The statements complicate and ridicule the American strategy in Syria .
.
Related topics ;
08/2015 – THE CURRENT STAGE OF THE MIDDLE EAST
06/2015 – U.S LACKS FULL STRATEGY !?
06/2015 – CONFUSING MEETING IN PARIS
05/2015 – ISLAMIC STATE OVERSHADOWS THE MIDDLE EAST
———————–
Read more ;