– 15 KILLED IN A SAUDI MOSQUE SUICIDE ATTACK
–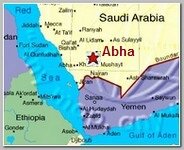 A mosque used by security forces in Abha, in Southern Saudi Arabia, close to the Yemeni border, known as Asir province. was, on Tuesday 08/06/2015, the target of a suicide bomber The explosion claimed the life of at least 15 people. The region is Sunni inhabited so was the Mosque.  Saudi TV reports that all those killed were members of the security forces. The mosque was used by a Swat team tasked with domestic security, officials said.
Saudi Arabia is also heading a campaign against Shia-led rebels in neighbouring Yemen .
The attack,was claimed online by an  I.S.I.S -affiliated group calling itself al-Hijaz Province. (Al-Hijaz is the province on the North Western mountainous side of Saudi Arabia, North to Asir province,  where Mecca and Medina, the two most holy cities in the Islam, are located )
The identity of the suicide bomber was  revealed on Saturday 08/08/2015 by the Saudi Interior Ministry as Yusuf Bin Salman Bin Abdullah al-Salman. 21. Earlier, I.S.I.S revealed the bomber's image, and said that his nickname was "Abu Sinan al-Najdi."
Meanwhile, Interior Ministry spokesman Gen. Mansour al-Turki told Al Arabiya News Channel that Abdullah al-Salman had previously been detained, and authorities are now searching for additional suspects in the mosque bombing.
–
Related top
ics ;
07/2015 – 431 ISIS MILITANTS NABBED IN SAUDI ARABIA 
06/2015 – ISIS CLAIMS KUWAIT'S SHIA MOSQUE BOMBING
06/2015 – SAUDI IDENTIFIED BOMBER AND 16 OTHER MILITANTS
05/2015 – SHIA MOSQUE IN SAUDI ARABIA BOMBED 
03/2015 – YEMEN'S RIFT – 135 WERE KILLED IN 2 SUICIDE BOMBINGS IN SANAA 
**********************
Read more .
BBC NEWS 
AL-ARABIYA
ALBAWABA
AL-ARABIYA-B