– THE "LONE WOLF" AND THE "CONSCIOUSNESS COORDINATION"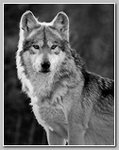 Prior to the Month of Ramadan, on 06/23/2015, the Islamic State chief spokesman and media chief Abu Muhammad al-Adnani al-Shami distributed through the web an audio message. promising increased rewards for those that wage jihad during Ramadan, especially against infidels (Christians, Jews, Shiites and other non Sunni communities ) and also offering a repentance deal to tribes in the Iraqi city of Haditha. He also congratulated the Islamic 'Caucasus Emirate' for pledging their allegiance to I.S.I.S .
Terror attacks committed by so called 'Lone Wolves' were already on the rise .in the Western Democracies almost impossible to intercept by local security services since the potential perpetrators are not connected to any group or organisation, generally they don't share their intention with even close friends and family members and very often they make up their decisions spontaneously with very little preparation . The would be terrorists try to behave as normal as they can and even in the rare cases, when relatives, friends or even the Imam of the Mosque report the authorities about "suspicious behavior' it is not enough to establish concrete concern about a terror attack. For the moment all security services in democracies face serious problems in monitoring 'Lone Wolves' and foil their terror activity .
Furthermore the Month of Ramadan, holly for all Muslims, see in the last three decades a sharp rise in Islamic religious emotions in radicalisation and fanaticism, and, as a consequence, also a rise in violent , terror attacks and suicide events. Especially sensitive are the first Friday of Ramadan, when so many gather in Mosques and public places and the last Friday of Ramadan, known as "Laylat al-Kader", the night Muslims believe their wishes will come true (including a meeting with 72 virgins in Paradise ) .
It is almost obvious that Yassin Salhi, the Grenoble killer, Seifeddine Rezgui, the Sousse shooter in Tunisia, the Kuwaiti suicide bomber and also the Palestinian who was shot dead by Israeli soldiers near Jericho,, in the Jordan Valley, after shooting at a checkpoint, on Friday 06/26/2015, did not know each other, they were not coordinated through any 'operational center' somewhere – they were coordinated by their Islamic consciousness .
Therefore the Islamic terror, in countries with efficient security services, especially in the Western Democracies, entered a new phase – the phase of "Lone Wolves' and 'consciousness coordination' with no earlier preparations, with no organisation – just the man and his conscience .
Related topics ;
02/2015 – COPENHAGEN SHOOTINGS
02/2015 – SIDNEY LINDT CAFE HOSTAGES CRISIS
09/2014 – BRUSSELS JEWISH MUSEUM SHOOTING
09/2013 – ZAWAHIRI CALLS TO "BLEED AMERICA ECONOMICALLY"
05/2013 – WOOLWICH BEHEADING
—————————-
Read more ;