– SHOTS FIRED TOWARD US CONSULATE IN ISTANBUL
–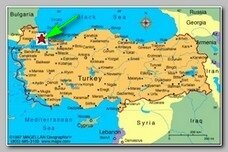 Two attackers opened fire, on 08/10/2015, outside the USA consulate building in Turkey's biggest city, Istanbul after bomb attack at a police station in the city caused a fire that collapsed part of the three-story building and killed three people and injured at least 10 others.The explosion also damaged neighboring buildings and around 20 cars parked nearby, the private Dogan news agency reported.
Turkey's Cihan news agency said those involved in the attack on the building in Istanbul's Sariyer district included one man and one woman. It was later reported by broadcaster NTV that police have detained the female suspect, probably from the Kurdish PKK..
There was no immediate claim for both attacks, which comes at a time of a sharp spike in violence between Turkey's security forces and rebels of the Kurdistan Workers' Party, or PKK.
Istanbul is the most populated Kurdish city in the world with over 1 millions Kurds living in the city. It becomes one of the hotspots of the renewed Turkish-Kurdish war .
–
* In a statement, that leftist group — also known as DHKP-C — claimed responsibility for the attack and warned President Recep Tayyip Erdogan's ruling party "who is trying to impress the U.S." of more to come. It is the same group that already attacked the US Embassy in Ankara with a suicide bomber on 02/01/2013.
Related topics ;
08/2015 – THE CURRENT STAGE OF THE MIDDLE EAST
07/2015 – EXPLOSION AT TURKEY'S OIL PIPELINE
07/2015 – TURKEY ALLOWS U.S TO USE INCIRLIK AIR BASE AGAINST ISIS
06/2015 – U.S LACKS FULL STRATEGY !?
————————
Read more ;
AL;ARABIYA
IBTIMES
CNN EDITION