BBC News
– TURKISH COMPLICATION – 16 KIDNAPPED IN BAGHDAD
Published
September 2, 2015
–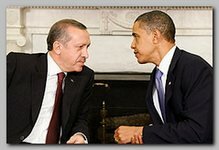 Just recently the Islamic State added Turkey, initially their godfather, to their long list of enemies responding to the new cooperation between U.S and Turkey in fighting I.S.I.S.
Masked men, on Wednesday 09/02/2015 dawn, in military uniforms kidnapped 16 Turkish workers and engineers in Baghdad, bundling them into several SUVs and speeding away, Iraqis security officials said.
The workers were taken in the northeastern district of Habibiya, ministry spokesman Brigadier General Saad Maan told Reuters.
Officials say the 16 are employed by a Turkish construction company contracted to build a sports complex in the sprawling Shia district of Sadr City. he kidnappers stormed the construction site, where the workers were sleeping in caravans, and disarmed the guards before taking the workers away.
The Turkish Foreign Ministry confirmed that 16 Turkish nationals were, indeed, kidnapped in Baghdad , Last year 46 Turkish citizens were seized by Islamic State militants in Mosul, but were released unharmed after more than three months in captivity.
.
Related topics ;
–
08/2015 – 2 IRAQI GENERALS KILLED AS ISIS ADVANCES TOWARD TURKEY
08/2015 – SHOTS FIRED TOWARD US CONSULATE IN ISTANBUL
07/2015 – A NEW WAR IN THE MEAS"T
07/2015 – TURKISH DOUBLE PLAY
——————————–
Read more ;