– 10 KILLED IN ASSAD'S STRONGHOLD – LATAKIA
–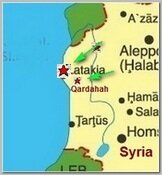 At least 10 people have been killed in a bomb attack, on Wednesday 09/02/2015 noon, in Hamam square, in the Syrian city of Latakia, a key stronghold of President Bashar al-Assad, according to state's Sana news agency . 25 others were injured when a van filled with explosives blew up in front of a school on the outskirts of the city,
Latakia has largely escaped the Syrian conflict that has devastated most of Syria and left 250,000 people dead with about a third of the Syrian population, about 10 millions, .fleeing the country as refugees.
But a rebel alliance that includes Jabhat al-Nusra Front, has been advancing on the city and within its surrounding province after driving government forces out of much of neighbouring Idlib province earlier this year.
Sana report also said that a day earlier, on Tuesday 09/01/2015 evening security forces had intercepted two cars loaded with explosives which "terrorists were trying to sneak into Latakia".
The Syrian Observatory for Human Rights, the UK-based monitoring group, said Wednesday's blast was "the biggest car bomb attack in Latakia since the war began" in 2011.
Last month, six people were killed in the city by shellfire and rebels forces reached the edge of the coastal mountains to the east where Mr Assad's ancestral village of Qardaha is located.
.
Related topics ;
–
08/2015 – 48 HOURS PARTIAL CEASEFIRE AGREED IN SYRIA
08/2015 – THE CURRENT STAGE OF THE MIDDLE EAST
07/2015 – THE THREAT FROM SYRIA'S AL-SAFIRA COMPOUND
05/2015 – ASSAD'S SYRIAN REGIME ON THE SLOPE
.
—————————————-
Read more ;
–
BBC NEWS
GERMAN DW