– ABU NUSAYBAH – IBRAHIM ABDULLAH-HASSAN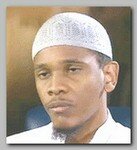 * Abu Nusaybah, born in 1982, is a Londoner Imam and an alleged friend of Michael Adebolajo , the Woolwich Beheading perpetrator. According to some sources Abu Nusaybah was also mentored by jihad preacher Anjem Choudary .
In an interview to BBC, on 05/24/2013 night, Abu Nusaybah said he thought "a change" had taken place in his friend after Michael Adebolajo 's detention by security forces on a trip to Kenya in 2012. Abu Nusaybah himself was arrested at the BBC after giving the interview. He was detained "on suspicion of the commission, preparation or instigation of acts of terrorism under the Terrorism Act 2000", the statement said. They also said he is not related directly to the Woolwich attack.
Abu Nusaybah, under his real name Ibrahim Abdullah-Hassan has been charged, on 05/31/2013, with three terrorism offences. The charges, which he denies, relate to videos of lectures and written material. The police said Ibrahim Abdullah-Hassan is not linked to to the Woolwich Beheading. He was remanded in custody and is due to appear at the Old Bailey on 28 June.
The charges include an allegation that on or before 24 May he "published or caused another to publish" five video recorded lectures entitled In Pursuit of Allah's Governance on the Earth, intending or being reckless as to whether members of the public would be encouraged to commit, prepare or instigate acts of terrorism.
In two further charges, Abu Nusaybah is also alleged, on or before 24 May, to have provided services to others enabling them to access a video lecture by Khalid al-Husainan and a text called Reality of the Rulers by Abu Zubair Adil al-Adab – conduct which could be intended as a "direct or indirect encouragement to the commission, preparation or instigation of acts of terrorism", according to the Crown Prosecution Service's counter terrorism unit.
 * Related topics ;
04/2013 -ITALIAN ANDRIA'S IMAM ARRESTED OVER TERROR
04/2012 -FRANCE TO EXPEL RADICAL ISLAMISTS
PROFILE -IMAM BILAL PHILLIPS
ROFILE -'IMAM' ABU IZZADEEN
PROFILE -IMAM FEISAL ABDUL RAUF
***********************************
Read more ; 
THEAUSTRALIAN