– MAULVI MOHAMMAD OMAR
 –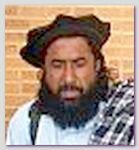 Maulvi Mohammad Omar was born in the late 60s', probably in 1968, in Kandahar, Afghanistan to a local known family from the Pashtu tribes. Maulvi  Omar's father died when he was 3 years old and he grew up as an orphan. He graduated in Kandahar a middle level of Islamic studies which granted him the title 'Maulvi' which means scholar in Urdu and Persian and is given to Sunni Muslims who graduated basic Islamic studies.
In the late 80s', the last stage of the war against the Soviet Union, Maulvi  Omar, as many other Pashtu youngster tribesmen, joined the Taliban and with years became a local middle rank leader.
Like many other Taliban leaders, Maulvi  Omar shifted his activity to Pakistan in the border regions with Afghanistan after operation Absolute Justice in 12/2001,.
In the years 2006-7 Maulvi  Omar mediated and helped to solve the problems with a large group of Muslim volunteers from Uzbekistan, who had a base in Wana in South Waziristan, but were aliens to the local Pashtu tribes customs and entered, therefore, to a violent conflict with local Taliban leaders. Maulvi  Omar's skills made him the natural spokesman for the Pashtu pro Taliban leaders on the border regions between Pakistan and Afghanistan.     
Maulvi  Omar became the prominent spokesman for the Taliban in East Afghanistan and for the Pakistani branch of the organization Tehrik-e-Taleban (the Taliban Way) led by Maulana Faqir Mohammad and the Taliban leader from South Waziristan Baitullah Mehsud.
On 07/01/2008 Maulvi  Omar barely escaped an UAV–  Unmanned Aerial Vehicle missiles attack in Bara, North Waziristan.  He is considered as reliable source and well connected to most of the groups affiliated to the Taliban in Pakistan as well as in East Afghanistan.
Later on Friday 10/24/2008, in the evening, Pakistani army, assisted by local pro-government tribesmen militia – the Ashkar (see – TRIBE FIRST), reportedly killed 12 Taliban after they targeted suspected Taliban hideouts in various areas of Bajaur area. According to unconfirmed rumors it is probable that Tehrik-e-Taleban's spokesman, Maulvi  Omar, was among the dead (see – Bajaur 10.25.08 ). 
** But, according to the Pakistani army, Maulvi  Omar, was picked up, on Tuesday 08/18/2009, in the Mohmand tribal area, close to the Afghan border, and arrested. Maulvi  Omar confirmed in his investigation that Baitullah Mehsude was indeed killed by the missile attack on 08/05/2009 (see – Ladha 08.05.09). He was replaced by spokesman Azam Tariq .
Related topics –
–
****************************
Read more ;  
NPS.NAVY.MIL