– MAULANA FAQIR MOHAMMAD
–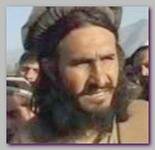 * Maulana Faqir Mohammad was born in 1971 in Chopatra, a village in Bajaur district in North-West Pakistan. He is from the Pashtu powerful local Mommand tribe.
Until the age of 20, Faqir Mohammed was simply known as an excellent student and was not involved in politics or militancy. In keeping with local tradition, Faqir Mohammed started his early education in a local Madrassa and was taught by the prominent Maulana Abdus Salam. Maulana Abdus Salam belonged to the Deobandi school of Islam, but adopted Salafism and shifted his Madrassa to Peshawar, the main town in the border region with Afghanistan. Faqir Mohammed was greatly inspired by Maulana Abdus Salam and under his guidance obtained the Dars-e-Nizami, which is equal to graduation and granted him the title Maulana (our teacher).
In 1993 Maulana  Faqir Mohammad formed, with Maulana Sufi Mohammad from the Swat Wally in North Pakistan and others, the Tehrik-e-Nifaz-e-Shariat Mohammadi (Movement for Implementation of Mohammad's Sharia Law) – TNSM that forcibly imposed Islamic religious laws in the Pashtu tribal areas of Northwestern Pakistan.
During the time of operation Absolute Justice in Afghanistan, in 12/2001, Maulana  Faqir Mohammad went with few hundreds of his followers to fight alongside the Taliban in Afghanistan.
Maulana  Faqir Mohammad is the senior Pashtu pro Taliban leader in Bajaur district and the most wanted cleric in Pakistan's Bajaur tribal region.  His house was targeted twice by USA UAV – Unmanned Aerial Vehicle in 05/2005 and on 01/22/2006 in order to kill him. In 01/13/2006 Maulana  Faqir Mohammad hosted Ayman Al Zawahiri when the village of Damadola was attacked from air by USA aircrafts. Many victims were buried under the ruins without being identified but Ayman Al Zawahiri was not among them (see – Damadola Fiasco).
In 10/2006 Maulana  Faqir Mohammad cut a deal, one of many, with the Pakistani Authorities to abstain from assisting the Taliban in Pakistan as well as in neighbor Afghanistan. As a gesture his brother Maulana Gul Mohamed and other pro Taliban leaders were released from Pakistani jail. This agreement was soon broken like all other agreements with the Taliban.  
In 2007 Maulana  Faqir Mohammad with Baitullah Mehsud formed an operational alliance – Tehrik-e-Taleban (the Taliban Way) which is actually the Pakistani branch of the Taliban.
Pakistani officials said, on Saturday 03/06/2010, that Maulna Fakir  Mohammad, along with 27 other Islamic militants, was killed in the helicopter gunship shelling of security forces on a house here in tensile Pendyali, Bajaur province of FATA, a day earlier. The report was never confirmed independently.
Also killed by the Pakistani army were the Afghan Qari Zia-ur-Rehman, and Fateh, whose real name is Umer Rehman, of Matta, Swat District. Commander Qari Zia-ur-Rehman was from Kunar province of Afghanistan (see – What's going on).
* Related topics – 
–
03/2010 -MILITANT AGHA JAN MOHTASIM ARRESTED IN KARACHI  
02/2010 -ABU WAQAS ARRESTED IN KARACHI  
*********************
Read more ;