– MOHAMMED ZEKI MAHJOUB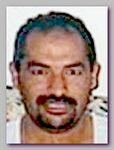 * Mohammed Zeki Mahjoub was born in Egypt in 1960. He graduated the Zagazig University as agricultural engineer and served in the Egyptian Army. After the assassination of the Egyptian President Anwar Saadat during a military parade on 10/06/1981 Mohammad  Mahjoub was put under supervision of the Egyptian security service and arrested on and off several times. He married Mona El-Fouli and they have two children.
In 1991 Mohammad  Mahjoub left Egypt when he was permitted to join the Hajj (pilgrimage) to Mecca, Saudi Arabia. In Mecca he met in a Mosque a representative of Osama Bin Laden, who hired him to work as an agricultural engineer in Osama Bin Laden's al-Damazin farms in Sudan. Mohammad  Mahjoub left his job in Sudan in 05/1993 because of argument over his working condition and left to Canada in 1995.
Mohammad  Mahjoub arrived to Canada with a stolen Saudi passport in 12/1995 and stayed for the first weeks with Ahmed Said Khadr's family and got acquainted with Essam Marzouk. He also kept constant connection with Mubarak al-Duri, his former manager in Osama Bin Laden's al-Damazin farms in Sudan, who was also in connection with Mahmoud Jaballah. 
In 1999 Mohammad  Mahjoub was sentenced in absentia in Egypt for 15 years in jail for his role in a series of terror attacks in Egypt. Mohammad  Mahjoub was also interviewed six times by the Canadian Security service – CSIS. 
In 06/2000 Mohammad  Mahjoub was arrested on a CSIS security certificate, probably because of a request by the Egyptian security service alleging he was a key member of EGYPTIAN Islamic Jihad.
The official grounds of the arrest was Mohammad  Mahjoub's own testimony that in the early 1990s' he had met and worked on a farm in Sudan owned by Osama Bin Laden. In 04/2006, he and the other security certificate detainees were moved to a newly-constructed facility two hours north of Toronto (called by the Canadian public Gitmo-North).
On 02/14/2007 Mohammad  Mahjoub was released from jail to home arrest under restricted conditions. Today (09/2008) Mahmoud Jaballah is still fighting in court his arrest and his possible deportation to Egypt on the grounds that he might face torture in Egypt.
CSIS is convinced that Mohammad  Mahjoub and Mahmoud Jaballah formed an Al Qaeda sleeping cell in Canada.
On Monday 03/09/2009 Canada's federal court eased bail conditions on Mohammad  Mahjoub, rolling back his curfew by a few hours at night and allowing him to stay home alone.
* Related topics –  
–
CANADA'S TERROR   DETAINEES  
******************
Read more ;  
CAGEPRISONERS