– CANADAIAN EFFORT TO DEPORT TERROR SUSPECTS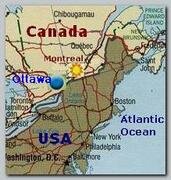 The federal government in Ottawa, Canada, is about to resume its epic legal campaign to deport five high-profile terror suspects, officials said on Friday 08/29/2008.
The five men targeted by the certificates include the Moroccan-born Adil Charkaoui, Hassan Almrei of Syria, Egyptians Mahmoud Jaballah , Mohammad Mahjoub and Algerian refugee Mohamed Harkat.
Special advocates were introduced in response to last year's Supreme Court decision that struck down the previous system as unfair: the high court said the process denied defendants the fundamental right to meet the case against them.
All five of the country's security certificate cases have been scheduled to go before Federal Court judges in November and December 2008- although there is one legal hurdle yet to clear.
The federal judges will be asked to determine the "reasonableness" of the security certificates based largely upon Canadian Security Intelligence Service evidence heard in secret. Reasonableness is a legal standard that is lower than those applied in criminal and civil court.
* Related topics –
–
**********************
Read more ;