– ESSAM MARZOUK
–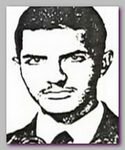 * Essam Hafez Mohammed Marzouk was born in Cairo, Egypt in the wealthy al-Muhandisin suburb in the mid 60s'.
After Essam  Marzouk finished his military service in the Egyptian Army, in the age of 19, he told his father he wanted to study engineering in the United States, but instead moved to the FATA region in Pakistan – a breeding ground for Al Qaeda.
In 1986-87, Essam  Marzouk worked as an ambulance driver at the Red Crescent hospital in Peshawar; Pakistan, where he got acquainted with  Ahmed Said Khadr and was introduced to the World wide Islamic Jihad network. From 1988-1993 he is alleged to have run an Afghan training camp for Islamic Jihadists. 
On 06/16/1993, Essam  Marzouk was arrested by customs agents at Vancouver International Airport, Canada, when he arrived from Damascus via Frankfurt dressed as a Saudi Sheik and calling himself Fawzi al-Harbi, after they found him carrying two forged Saudi passports. It is assumed that he acted as a currier for the Intelligence network of Al Qaeda run by Ali Mohammed.
Ali Mohammed, who was waiting to pick him up at the airport, inquired of the police about his friend's detention. That made the RCMP (Royal Canadian Mounted Police) curious about Ali Mohammed who was shortly questioned too, but he dispelled their suspicions by telling them he was a collaborator with the FBI. Eventually Essam  Marzouk was bailed, six months later by $3,000 bail paid by Khaled Abu-Dahab with Al Qaeda's money.
While in custody, on charges of using a forged document, fraud and illegally entering the country, Essam  Marzouk applied for refugee status, claiming he feared religious and political persecution in Egypt. Essam  Marzouk spent nearly a year in detention in Canada before his refugee status was confirmed and he was released in mid 1994.
Essam  Marzouk married, after his release, a Canadian woman named Yasmien and together they bore a child. He was tentatively employed as a truck driver and was living on social assistance. In 1997, the FBI found Essam  Marzouk listed in an address book taken from Wadih el Hage's Nairobi, Kenya apartment and he was put under Canadian close surveillance since. Also in 1997, Essam  Marzouk co-founded an Import-Export business named "4-U Enterprise" with his best friend in Canada, former Egyptian Amr Hamed who shared his love of sports. In 02/1998, he sold off his company.
In 1998 Essam  Marzouk was introduced to Mohammad Mahjoub at the house of Ahmed Said Khader's son in-laws in Toronto and made a number of phone calls to Mohammad Mahjoub home. He travelled, in 05/1998, to visit Ahmed Said Khader in the hospital in Peshawar, Pakistan.
In 1998, after five years, Essam  Marzouk left his Canadian wife and child and flew to Turkey, where he is believed to have met with Ahmed Agiza before returning to Eastern Afghanistan. After his friend and co-partner  Amr Hamed was killed, on 08/20/1998, in the American bombing, which followed the 08/07/1998 attack on USA Embassies in Kenya and Tanzania. Essam  Marzouk flew to Dubai and onward to Europe, before quickly doubling back to Dubai and booking a flight to Azerbaijan. He was monitored, partially, by Israeli Mossad agents who informed the CIA.
Essam  Marzouk was detained in Azerbaijan, along with  Ahmad Salamah Mabruk and Ihab Sakr, by Azeri police, on 08/20/1998, following the attacks on USA Embassies in Kenya and Tanzania, on 08/07/1998, in Extraordinary Rendition, and handed over to the CIA and then to Egypt. He was charged in the famous Albanian Trial in 02/1999. Essam  Marzouk was found guilty in assisting and supporting terror attacks in Egypt. In 04/1999 he was sentenced to 15 years imprisonment.   
* Related topics –
–
********************************
Read more ;  
HISTORYCOMMONS