– BANGLADESH ARRESTED "BOMB EXPERT"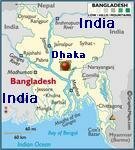 Security forces in Bangladesh have arrested a suspected bomb expert and his wife belonging to an outlawed Islamist group in Dhaka, police said on Friday 05/15/2009.
A senior official from the Rapid Action Battalion -RAB force said that the man, Jahidur Rahman, was a senior member of Jamaat-ul-Mujahideen Bangladesh – JMB. The group has been blamed for a series of bombings in 2005 (see – BANGLADESH Bombings).
The official said Jahidur Rahman's wife had exploded a bomb trying to protect her husband during the raid on their home. She and their two children had also been hurt in the incident. RAB recovered one pistol, two bombs, two grenades, several rounds of ammunition and bomb-making materials from their house,
The Jamaat-ul-Mujahideen – JMB is one of several radical Islamic groups trying to establish Islamic law in Bangladesh.  
Security forces also say that they carried out a second raid on a "JMB den" in the city, used to make bombs, train militants and store explosives.
"We have found a huge quantity of bomb-making ingredients and other materials including detonator, grenade casing, fuse, plastic explosives and chemicals in the camp in the city's Mirpur residential area," RAB Chief Hassan Mahmood Khandker told reporters.
He said that equipment and chemicals for making mines were also found. RAB officials say it is the first time they have found mine-making materials from a militants' hideout.
Police say that the -JMB has recruited numerous women and trained them as bomb squad operators. They say that the group plans to boost its activities.
Hundreds of the group's activists have been detained over the past two years, with many being put on trial. Some were involved in an assassination attempt on Prime Minster Sheikh Hasina in 2004, police said.
* Related topics – 
–
***********-N-**************
Read more ;