– TALIBAN KILLED 12 PAKISTANI SOLDIERS
–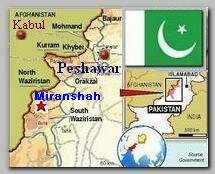 Taliban militants have ambushed, on Sunday 06/28/2009 night, a Pakistani military convoy and killed 12 soldiers, the army says. 10 others were injured
.
The attack happened in North Waziristan, near Miranshah close to the Afghan border, when militants fired rocket-propelled grenades at several vehicles. A fire-fight then broke out in which 10 militants were killed, the military said.
The attack came as Pakistani troops prepared to launch an operation against militants in nearby South Waziristan, the region, the stronghold of Baitullah Mehsud. The US has already put a bounty of $5m (£3m) on his head and on Sunday the Pakistani authorities offered an additional $615,000 for his capture.
The convoy was attacked in the Gharlamai region near Wachabibi village, some 45km (25 miles) west of the region's main town of Miranshah.
The military has been fighting militants in the Swat District, to the north, for two months – an operation that has triggered militant attacks on both the military and towns and cities elsewhere (see – PAKISTAN REPORT ).
* Related topics –
–
************N************
Read more ;