– OVER 1000 ESCAPED YEMEN'S TAIZ JAIL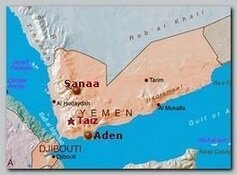 Over 1,000 prisoners escaped from Taiz jail, on Tuesday 06/30/2015 night, as fighting raged in Yemen's third-largest city between pro Iranian Shia Houthi rebels and forces loyal to the country's ousted president, residents said.
It was at least the third jailbreak since 03/2015, when Saudi Arabia launched an air campaign against Shiite Houthi rebels who have seized large parts of Yemen, its neighbor.
One of those three jailbreaks, in the city of Mukalla, reportedly freed scores of Al Qaeda members. But residents of the southern city of Taiz said they did not believe Tuesday's incident led to the release of such militants.
Residents provided varying reports of the latest mass escape. Abdulqader Aljunaid, a doctor and political activist in Taiz, said that it occurred after Houthi rebels were attacked by fighters loyal to exiled President Abed Rabbo Mansour Hadi. After the Houthi rebels fled their camp, they broke into the city's prison and released 1,200 inmates, he said.
He said that alleged al-Qaeda members "are normally not imprisoned in Taiz."
Salim Mughalis, a Houthi political officer in Taiz, said that pro-Hadi forces were the ones who sprang the prisoners from jail.
Related topics :
06/2015 – MULTIPLE BOMB ATTACKS IN YEMEN'S CAPITAL SANAA
04/2015 – YEMEN'S CHAOS
03/2015 – YET ANOTHER SHIA-SUNNI WAR – YEMEN
03/2015 – YEMEN'S RIFT – 135 WERE KILLED IN 2 SUICIDE BOMBINGS IN SANAA
06/2008 – SANAA JAIL ESCAPE
————————-
Read more ;