– ISLAMISTS KILLED 11 ALGERIAN SOLDIERS
–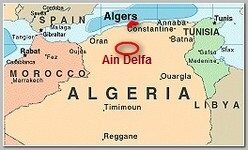 A militant ambush killed 11 soldiers in a northern region of Algeria, on Thursday 07/16/2015,  according to reports from Sunday 07/19/2015. .
The incident occurred in a forested area of Ain Delfa, 150 miles southeast of the capital Algiers.
Few details are available, including which group perpetrated the attack, but armed militant groups have been active in Ain Delfa dating back to the 1990s during Algeria's civil war.
MAGHREB al-Qaeda – AQIM –  is an Algeria-based Sunni Muslim jihadist group that, according to the USA National Counter-Terrorism Center, employs "conventional terrorist tactics, including guerrilla-style ambushes, mortar, rocket, and IED attacks."
In 09/2014, Jund al-Khilafa fi Ard al-Jazayer, or "Soldiers of the Caliphate in Algeria," split from AQIM and declared allegiance to Islamic State leader Abu Bakr al-Baghdadi.
Militants from the IS affiliate in October kidnapped and beheaded 55-year-old Frenchman Hervé Gourdel in Algeria, depicting the execution in an online video. The militants said France had failed to respond to a demand to drop out of the US-led coalition against IS forces in Iraq and Syria.
Related topics ;
07/2015 – MOURAD GHARSALLI AMONG 5 MILITANTS KILLED IN TUNISIA 
07/2015 – FRENCH S.F KILLED MALI MILITANT ALI AG WADOSSENE 
01/2013 – IN AMENAS RAID  
08/2011 – 11 KILLED IN ALGERIAN MILITARY ACADEMY SUICIDE ATTACK  
**********************
Read more  ;