– OVER 25 SYRIAN DRUZES, INCLUDING PROMINENT SHEIKH, KILLED IN EXPLOSION
–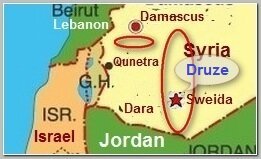 The toll from twin car bombs that rocked the outskirts of the Southern Druze Syrian city of Sweida, he heartland of Syria's Druze minority of over 600,000, Friday 09/04/2015. has risen to 26 people, including a prominent Druze cleric, Another 50 people are wounded," according to the Head of Syrian Humanitarian Monitoring Group Rami Abdel Rahman
Among those killed was prominent Druze leader Sheikh Wahid al-Balous (pic), who spoke out often against both the Syrian regime and Islamists. "Sheikh Wahid al-Balous was killed in a car bomb attack as he was driving on the outskirts of Sweida city," said Rami Abdel Rahman, while a second car bomb struck near the hospital in the Dahr al-Jabal neighbourhood where the wounded were being taken. Sheikh Wahid al-Balous was the leader of the Sheikhs of Dignity group, which aimed to protect the Druze areas in Syria. He opposed army conscripts from Sweida Druze being sent outside the Druze province . Two other Druse clergymen were also among the dead.

Syrian state television confirmed the two blasts and said eight people had been killed, blaming the explosions on insurgents.but did not mention the Druze leader..
The Druze faith/sect is considered by most of the Sunni Schools as "outside" of Islam ( 'Hawarej' in Arabic) and by more Radical militants as just "infidels" who suppose to choose between converting to the true Islam, the Sunni version, or just being executed.
Therefore the Druze community in Syria was and is a strong supporter of the Alawite Bashar Assad's regime in Syria and of the idea of a Syrian nationality. In Sweida, Druze have formed a local militia to protect themselves from the rebels.
In Israel the Druze community is well integrated into the Israeli administration and especially the Israeli security and defence establishment.in the most influancial levels. The head of Lebanon's Druze community Walid Jumblatt, in a condolence statement he posted on Twitter, accused the Assad government of killing Balous. But the chief of Syria's Druze, Sheikh Youssef Jarboua, accused "the enemies of the nation and humanitarian state".
It is unclear who was behind the bombing since Assad's regime has nothing to gain with mobilizing the Druze against him, Some believe the bombing was an attempt to complicate Israel with the war in Syria.
About three months ago a quite understanding was reached between Jabhat al-Nusra and other Islamic groups in Southern Syria and the Druze leadership in Sweida, following the retreat of the Syrian Army from Southern Syria and the Syrian Golan Heights toward Damascus, not to attack or to fight each other (some intelligence sources said Israel mediated between the two sides since Israel has connections with both the Druze and the coalition of Syrian rebels in Southern Syria ).
.
Read more :
08/2013 – THE BATTLE OF LATAKIA – THE LATEST STAGE IN THE SYRIAN WAR
08/2015 – THE CURRENT STAGE OF THE MIDDLE EAST
05/2015 – AL-NUSRA, ALLEGEDLY, AIMING ONLY AT ASSAD'S REGIME
07/2008 – WHO IS SAMIR QUNTAR ?
.
—————————
Read more ;