– JASON WALTERS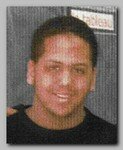 Jason  Walters was born on 03/06/1985 in Amersfoort, Holland, to a black American soldier stationed in Holland and a local woman and has a double citizenship of USA and Holland. Jason  Walters was raised as a Christian Baptist. His parents live in Holland. 
After Jason  Walters's father, Carl, started to drink and lost his job, his parents divorced in 1997. Soon after the divorce his father converted to Islam looking for meaning in his life.  He convinced his son Jason  Walters, some time later, probably in early 2000, to convert to Islam too. According to their acquaintances they enjoyed studying the Koran together.
After The 9/11 Jason  Walters's attitude became, gradually, more and more radical. In his final year in school, in 2003, he began to study websites about the Jihad. He was also anxious to study Arabic. Jason  Walters began to meet other Radical Muslims and especially was attracted to Samir Azzouz's failed trip to Ukraine in 01/2003.  Jason  Walters attended the prayers in the Al-Tawheed Mosque in Amsterdam, where he got acquainted to other future members that formed the Hofstad Group in the fall of 2002 and specially befriended Ismail Akhnikh. Jason  Walters called himself "Abu Mujahid Amriki".  
In 09/2003 Jason  Walters made his first trip to Pakistan for training with "Jaish-e-Mohammed" (JEM) founded by Maulana Masood Azhar.    
On 10/14/2003, after the primary interrogation by the Spanish police of Abdeladim Akoudad in Barcelona, Spain, Jason  Walters was arrested in Holland along with Redouan al-Issar, Samir Azzouz and Ismail Akhnikh – all members of Hofstad Group, for planning a terrorist attack in the Netherlands, but was released soon after because of lack of evidence.
In summer 2004 Jason  Walters, with Ismail Akhnikh, visited Pakistan again for a month of training. His friend, Ismail Akhnikh, stayed only for a week.   
On 11/10/2004, in an attempt of the Dutch police to arrest some of the Hofstad Group members related to Theo van Gogh assassination: Jason  Walters and Ismail Akhnikh, 23, were involved in a 10-hour siege at a home in The Hague after five members of a police arrest team were wounded by a hand grenade they threw. 
Jason  Walters was sentenced on 01/10/2006 to 15 years in prison. His younger brother Jermaine Walters, born in 1987, followed his steps and was also a junior member in Hofstad Group.  
In an open letter published by De Volkskrant Saturday 10/16/2010, Jason  Walters describes his former ideas as "morally bankrupt" and warns Muslim youth "not to be misled by false promises and ideas."
* Jason  Walters was released from Dutch jail on Saturday 05/11/2013.
* Related topics –
1998-2001 -THE BELGiAN CELL 
******************
Read more ;