– AHMED SALIM SWEDAN & HAMDEN ALLAH AWAD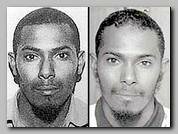 * Sheikh Ahmed Salim Swedan, from a Yemeni descent, was born on 04/09/1969 (alternate year – 1960) in Mombasa, Kenya.  He managed a trucking business in Kenya.
In 1996 Ahmed Salim  Swedan was, probably, recruited to Al Qaeda by Mohammed Saddiq Odeh, who was in Mombasa on a recruiting mission. In late 1996 Ahmed Salim Swedan went with Fahid Ally Msalam for training period in Al Qaeda's camp in Afghanistan.
Ahmed Salim  Swedan bought the car used as a bomb on the 08/07/1998 attack on USA embassy in Nairobi, Kenya. Five days before the attack Ahmed Salim  Swedan, with Mustafa Mohammed Fadhil, flew to Karachi, Pakistan.  
On 12/16/1998 Ahmed Salim  Swedan was indicted, in absentia, in the Southern District of New York, USA, alongside Fazul Abdullah Mohammed , Ali Mohammed and other Al Qaeda operatives for his role in the 08/07/1998 attack.  
There were rumors about Ahmed Salim Swedan's possible arrest in Pakistan in 07/2002, his handing over to CIA and the probability that he is in custody in a "secret jail' runs by CIA.  All these claims are unsubstantiated.
In 2005 there was an intelligence report that Ahmed Salim  Swedan was, probably, in Nicaragua. Today (10/2007) he is still on the FBI most wanted list and his whereabouts remain unknown. US Department of State has offered a $5 million reward for information leading directly to the apprehension of Sheikh Ahmed Salim Swedan.
Sheikh Ahmed Salim  Swedan was killed, eventually, In the FATA region of South Waziristan, Pakistan, along with Fahid Ally Msalam, who used the name Usama al-Kini (in Arabic Usama the Kenyan), on 01/01/2009. According to intelligence sources they masterminded the Marriott Bombing in Islamabad, Pakistan, on 09/20/2008 and the Karachi carnage as well . See – Karikot 01.01.09 .
* Hamden Khalif Allah Awad, alias Ahmed the German, was born in Egypt on 08/13/1970. The name Ahmed the German suggested that he spend some time in Germany, probably in the late 80s' and the early 90s'.
Hamden Allah  Awad arrived to Dar Es Salaam in 07/1998 specifically to be the future suicide bomber in the planned 08/07/1998 attack.  
Two days before the 08/07/1998 attack Hamden Allah  Awad called his family in Alexandria, Egypt, to tell them he was about to "leave this life".
Hamden Allah Awad was the suicide bombe who drove a car bomb into USA embassy in Dar Es Salaam, Tanzania's capital on the 08/07/1998 attack.
* Related topics ; 
11/2010 -AHMED KHALFAN CHAILANI AQUITTED OF 284 COUNTS 
****************
Read more ;