– BANNED TERROR GROUPS IN U.K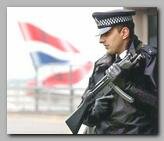 On 10/10/2005, in the aftermath of the London 7/7 and London 7/21 attacks, the British government decided to outlaw 15 terror organizations who operated also on British soil and posed a threat to public security in UK. 
The 15 groups were:
* Ansar al-Islam, affiliated to Abu Musab al Zarqawi in Iraq. 
* Ansar al-Sunna – an offshoot of  Ansar al Islam.   
* Harkat-ul-Jihad al-Islami – HuJI -A radical Pakistani group.
* Harkat-ul-Jihad al-Islami Bangladesh – HUJI-B – The Bangladeshi branch of the Pakistani group.
* Harkat-ul-Mujahideen – another Pakistani organization.
* Hizb-e-Islami Gulbuddin – A small Afghan/Pakistani group affiliated to Gulbuddin Hekmatyar in Afghanistan.
* Islamic Jihad Union -IJU, based in Central Asia.
* Itihad al-Islamiya – A Somali group which gave logistic support to the bombing of USA Embassies in Kenya and Tanzania, on 08/07/1998 and the Mombasa Paradise attack, on 11/28/2002.
* Jamaat-ul-Furquan – (Jamaat ul-Fuqra) The group was removed earlier  from the USA State Dept. terror list while they have since been banned in both Pakistan and the UK. The group is an offshoot of the Radical Pakistani terror group Jaish-e-Mohammed –JEM.
* Jundallah – An Anti-Shiaa group based in Baluchistan, Pakistan.
* Khuddam-u-Islam. 
* Lashkar-e-Jhangvi based in Pakistan.
* Moroccan Islamic Combat Group – ( CICM ), whose network operated all over Europe. 
* The LIBYA Islamic Fighting Group – LIFG
* Sipah-e-Sahaba Pakistan – SSP (see – Maulana Azam Tariq) also known as Ahle Sunna Wal Jamaat.  
* Islam4UK, actually a continuation of Al-Muhajiroun, banned in UK on 10/13/2004, was banned too by the British authorities, on Tuesday 01/12/2010 (see – Luton 01.11.10 ).
* Related topics –  
**************************
Read more ;  
CAGEPRISONERS