– MOUSTAFA LABSI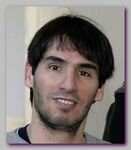 * Moustafa Labsi was born in Algeria in 1970. He fled Algeria in the early 90s' to France and later, probably in 1996, moved to Canada. In 1997 Moustafa Labsi was a roommate of Ahmed Ressam and Said Atmani in Montreal, Canada.
In 03/1998 Moustafa Labsi, after meeting with Abu Zubaydah in Karachi, Pakistan, went through military training in Al Qaeda's Khalden training camp in Afghanistan along with his roommate from Montreal – Said Atmani and Ahmed Ressam.
Moustafa Labsi returned to Europe and married a Slovakian wife. He was detained in Berlin in 02/2000 for questioning while using a false credit card. The British police believed Moustafa Labsi was in charge of daily communications with the Frankfurt Group.
Moustafa Labsi was arrested in UK, on 01/13/2001, and charged in 02/2001, along with 5 other Algerians, with possessing computers, electronic equipment, forged identity papers and credit cards and large sums of money "which give rise to reasonable suspicion" that they were planning to carry out terrorist attacks. The case was dropped in 05/2001 and Moustafa Labsi was released without any charges and rearrested on the request of France. According to France Moustafa Labsi was involved in the Strasbourg plot , based on his fingerprints found in locations related to the plot.
In 03/2003 Moustafa Labsi and other members of the Frankfurt Group, was convicted and sentenced to 6 years in jail in France, in absentia.
After a judicial procedure, Moustafa Labsi was sent to France in 2005. Although convicted on terror related charges Moustafa Labsi was released in France due to time already served in UK prison. His wife and his son, born in 07/2003, meanwhile moved to Slovakia to his wife's family.  
On 05/04/2007 Slovak police arrested Moustafa Labsi, when he illegally crossed the Slovak-Austrian border, on the request of the Algerian government. He was 'tried in absentia in Algeria, in 2005, and sentenced to life imprisonment on charges related to terrorism'.
On 08/07/2008 Slovakia's Supreme Court decided to cancel 'terror' suspect Mustafa Labsi's planned extradition to Algeria. He was freed in Bratislava but then, immediately, rearrested by the Slovak Foreign Police on the ground that Migration Office has allegedly rejected Moustafa Labsi's  application for asylum in Slovakia.  
On 06/12/2009

Moustafa Labsi's application for asylum in Slovakia was rejected again.
.
* Related topics – 
–
.
**********************
Read more –
–
ISS.CO.ZA