– MONTREAL 99 CELL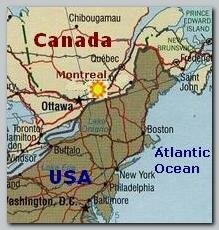 Montreal 99  cell was an Islamic terror cell affiliated to Al Qaeda and was organized by Canadian residents or citizens from Algerian descent. The cell consisted of four Algerian refugee claimants who had lived in Canada for as long as from 1994 and were alleged members of radical Islamic factions called the "Salafist Group for Call and Combat" – (GSPC) and "Armed Islamic Group" (GIA).  
The Montreal 99  cell was coordinated by no' 4 in Al Qaeda, Abu Zubaydah, and was in charge of carrying out terror attacks in North America, Canada and USA on 2000 eve, as a part of a much larger Millennium Plot.
Montreal 99  cell intended to hide bombs in the Jewish quarter of Montreal, Canada, in the Times Square in New York and in Los Angeles International airport in USA. The LOS ANGELES MILLENNIUM plot was foiled after Hussein Turi, arrested in Jordan on 12/12/1999, in connection with the JORDANIAN MILLENNIUM plot, revealed the plot in his investigation. The investigation led to the arrest of Ahmed Ressam on 12/21/1999, a member of the cell, when he tried to enter USA from Canada with 70 kg explosives in his car.
According to CSIS, The Canadian Security Service, the cell was under surveillance for some time prior to Ahmed Ressam arrest.
The ringleader of the cell was Samir Ait Mohamed. He and 10 more suspects were arrested by Canadian police. All of them never faced charges. The three key figures Fateh Kamel, Mokhtar Haouari and Mourad Ikhlef were deported from Canada and the other are free today (07/2007) but the terror cell was dismantled.
Epilogue ;
On 04/11/2002 noon, Nizar Nasr Nawar who was recruited to Al Qaeda by the Montreal 99  cell, drove a track loaded with gas canisters and home made explosives towards a German tourist group who visited the old Jerba Jewish synagogue. The car collided with the synagogue wall and exploded. 14 German tourists and 7 locals were killed by the Jerba Attack.
* Related topics –  
**********0************
Read more ;