– BLASTS HIT BANGALORE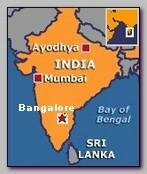 On Friday 07/25/2008 afternoon, a series of 7 explosions went off within 45 minutes in deferent locations in Bangalore the capital of the Indian state Karnataka and the center of Indian High-Tech industry in South East India. (See also – Karnataka Plot )
Two blasts occurred close to police facilities while another bomb went off in a city-centre business district. The fourth explosion targeted the Koramangla district, where several computer software firms are located. The other blasts occurred in the southern suburbs of Bangalore and the blasts occurred within a radius of 10 to 15km. 
The bombs were assembled from gelatin sticks and detonated by timers and caused the death of two persons, a man and a woman. About dozen others received  shrapnel injuries in the blasts. The next day the police in Bangalore found an eighth unexploded bomb near a shopping centre.   
No one has claimed responsibility for the attacks. However, police said that attacks bore some resemblance to the Bangladeshi group Harkat-ul-Jihad al-Islami – HUJI-B and is similar to the Jaipur Bombings committed by the organization on 05/13/2008, which wants the secession of the disputed Himalayan region of Kashmir.
India's home ministry said it suspected "a small militant group", while police said the banned Students Islamic Movement of India – SIMI was a suspect.
The next day, on 07/25/2008, another similar attack was carried out – the Ahmedabad Bombings, which was committed by the same SIMI terror cell, probably the INDIAN Mujahideen led by Riyaz Bhatkal.
* Eventually, the case was fully solved only after the Mumbai-Arrests, on 09/24/2008. The financier of the attack, Sarfaraz Nawaz, was, eventually, arrested in the Emirate of Muscat and Oman in late 02/2009.
* Related topics – 
–
07/2008 -5 KILLED IN KASHMIR EXPLOSION  
06/2008 -MOHD  IBRAHIM ARRESTED OVER TERROR  
*****************
Read more ;